Emeril's Garden Vegetable Soup
A Hearty Winter Soup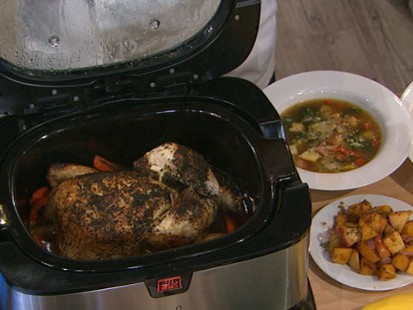 Emeril Lagasse prepares his garden vegetable soup and chicken in a pot.
From the kitchen of Emeril Lagasse
This garden vegetable soup is full of broccoli, squash, and spinach for a healthy and satisfying soup.
Ingredients
6 sprigs parsley
2 bay leaves
2 tablespoons olive oil or butter
2 cups diced onions
11/2 cups diced carrots
11/2 cups diced celery (small dice, with or without leaves)
2 tablespoons minced garlic
8 ounces button mushrooms, wiped clean, stemmed, and quartered (about 2 cups)
4 quarts beef, chicken, or vegetable stock or canned, low-sodium beef, chicken, or vegetable broth
11/2 teaspoons salt
3/4 teaspoon freshly ground black pepper
2 cups broccoli or cauliflower florets, cut into bite-size pieces
1 cup diced zucchini (large dice)
1 cup diced yellow squash (large dice)
One 10-ounce bag prewashed spinach
1/2 cup grated Parmigiano-Reggiano cheese (optional)
Cooking Directions
Tie the parsley sprigs and bay leaves together with a piece of kitchen twine. Set aside.
Heat the olive oil in a 6-quart (or larger) soup pot over high heat. Add the onions, carrots, celery, and
the parsley bundle, and cook for 2 minutes, stirring frequently. Add the garlic and mushrooms, and cook
for 3 minutes. Add the broth, salt, and pepper. Cover the pot and bring to a boil. Remove the cover, reduce the heat to medium-low, and simmer for 12 minutes.
Add the broccoli, zucchini, yellow squash, and spinach to the soup. Simmer for 5 minutes.
Remove the parsley bundle and serve the soup hot, garnished with the grated cheese if desired.
This recipe was styled by chef Karen Pickus for Good Morning America.
Recipe courtesy Emeril Lagasse, from Emeril 20-40-60: Fresh Food Fast, HarperStudio Publisher, 2009, copyright MSLO, Inc., all rights reserved
Recipe Summary
Main Ingredients: spinach, mushrooms, parsely, olive oil, cheese, stock
Course: Soup
More Info: Kid Friendly