Emeril's Gluten-Free Peanut Butter-Chocolate Chip Cookies
You'd Never Know They're Gluten-Free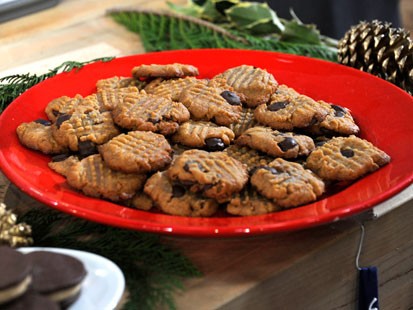 From the kitchen of Emeril Lagasse
|
Try these gluten-free peanut butter-chocolate chip cookies from Emeril.
Ingredients
1 cup creamy peanut butter
1/2 cup granulated sugar
1/2 cup packed light brown sugar
1/2 cup semisweet chocolate chips
1 large egg, beaten
1 teaspoon vanilla extract
Cooking Directions
Position two oven racks in the center of the oven and preheat the oven to 350°F.
Combine all the ingredients in a bowl, and stir with a wooden spoon until smooth.
Divide the dough into 24 portions, about 1 heaping tablespoon each. Roll each portion between your
hands to form a smooth ball. Place the balls of dough on ungreased cookie sheets, spacing them 1 inch
apart. You should get about 12 cookies per sheet. Using a fork, press on the dough in two directions to
form a crosshatch pattern.
Bake the cookies, rotating the sheets between oven racks and turning them back to front midway,
until the cookies are puffed and lightly golden, about 10 minutes. Remove the baking sheets from the oven and let the cookies cool on the sheets. Then remove them with a metal spatula.
About 24 cookies
Note: Yes, this recipe is correct as written: it has no flour! No worries, these cookies still bake up chewy and delicious!
This recipe was styled by chef Karen Pickus for Good Morning America.
Recipe courtesy Emeril Lagasse, adapted from Emeril 20-40-60: Fresh Food Fast, HarperCollins Publisher, New York, 2009, copyright MSLO, Inc., all rights reserved
Other Recipes That You Might Like