Home
>
GMA
>
Recipes Home
>
Emeril's Grilled Mixed Mushrooms on Skewers with Fresh Herbs and Parmesan
Emeril's Grilled Mixed Mushrooms on Skewers with Fresh Herbs and Parmesan
Vegetarian-Friendly Summer Food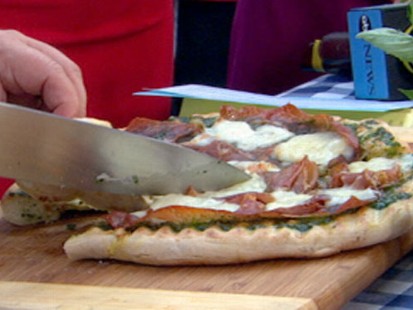 The celebrity chef shows you how to throw the ultimate summer pizza party.
From the kitchen of Emeril Lagasse
|
This vegetarian-friendly option is far from boring. Fresh herbs and parmesan add flavor and depth to meaty mushrooms.
Ingredients
Six 12-inch bamboo skewers, soaked in warm water for at least 15 minutes
6 ounces shiitake mushrooms, stemmed
6 ounces cremini mushrooms, stemmed
6 ounces baby bello mushrooms, stemmed
6 ounces button mushrooms, stemmed
2 tablespoons chopped garlic
1 teaspoon kosher salt, plus more to taste
1/2 teaspoon freshly ground black pepper, plus more to taste
1/4 cup white balsamic vinegar
1/2 cup extra-virgin olive oil
1/2 cup finely grated Parmigiano-Reggiano cheese
1/4 cup chopped fresh parsley
2 tablespoons chopped fresh thyme
2 tablespoons chopped fresh rosemary
1/2 cup olive oil
Cooking Directions
Preheat a grill to medium-high.
Halve any mushrooms that are large. Evenly divide the mix of mushrooms among the skewers. Arrange the skewers on a baking sheet or large platter.
In a small bowl, combine the garlic, salt, pepper, and vinegar. Whisk in the extra-virgin
olive oil in a slow, steady stream. Add the Parmesan and the fresh herbs.
Drizzle the olive oil over the skewered mushrooms and rotate the skewers in the oil to coat all sides.
Grill the mushrooms, turning the skewers every minute, until they are nicely browned, about 4 minutes. Brush some of the herb-Parmesan mixture over the mushrooms and grill for 1 minute longer. Remove the skewers from the grill and season the mushrooms with salt and pepper.
To serve, arrange the skewers on a platter and drizzle them with more of the remaining herb-Parmesan mixture. (Any unused herb-Parmesan mixture can be saved in an airtight nonreactive container in the refrigerator and used as an accompaniment to pasta, bread, or grilled fish or chicken.)
Recipe courtesy Emeril Lagasse, from Emeril at the Grill: A Cookbook for all Seasons, HarperCollins Publisher, New York, 2009, copyright MSLO, Inc., all rights reserved
This recipe was styled by chef Karen Pickus for Good Morning America.
Other Recipes That You Might Like