Emeril's Gulf Coast Fish House Shrimp and Grits
Recipe courtesy Emeril Lagasse, courtesy Martha Stewart Living Omnimedia, Inc.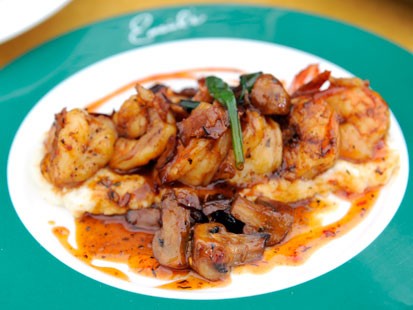 From the kitchen of Emeril Lagasse
|
In June 2008, Emeril Lagasse called upon Steve D'Angelo to lead the kitchen at Emeril's Gulf Coast Fish House as chef de cuisine.
D'Angelo holds a deep appreciation for the bounty of the gulf waters, sourcing local oysters, fish and shrimp straight from the docks, along with fresh exotic catch flown to the restaurant daily, and locally grown produce and farm products.
Ingredients
Shrimp:
2 pounds medium shrimp, peeled and deveined
2 1/2 teaspoons Essence
3/4 teaspoons salt
2 tablespoons olive oil
4 tablespoons butter, room temperature
1 recipe Smoked Cremini Mushrooms and Rendered Bacon
1 recipe Lazy Magnolia BBQ Sauce
1 recipe Smoked Cheddar Grits
1 recipe Citrus Buerre Blanc
1 recipe Creole Tomato Glaze
1 recipe Grilled Green Onions
Cooking Directions
In a large bowl, combine the shrimp with the Essence and salt and toss to blend. Set aside as you prepare the skillet. Place a large, 14-inch skillet over high heat and add the olive oil and heat until very hot. Add 1 tablespoon of the butter to the pan.
Swirl to melt, and then add the shrimp to the pan, being sure that the shrimp are in 1 layer in the pan. Sear the shrimp until well caramelized on the first side, about 1 minute. Turn the shrimp over and add the Smoked Mushrooms and Bacon and Lazy Magnolia BBQ Sauce to the pan.
Continue to cook, stirring occasionally, until the shrimp are well coated with the sauce and just cooked through, about 3 minutes. Add the remaining butter to the pan and swirl until melted into the sauce.
To serve, divide the grits between 8 entree-sized shallow bowls. Drizzle about 2 tablespoons of the Citrus Beurre Blanc and Creole Tomato Glaze around the edge of the grits near the rim of the bowl. Divide the shrimp-mushroom mixture evenly between the bowls, and place a grilled green onion on top of the grits in a circle. Serve immediately.
*Recipe courtesy Emeril Lagasse, courtesy Martha Stewart Living Omnimedia, Inc.
Other Recipes That You Might Like