Emeril's Hash Brown Potatoes
Potatoes With a Spicy Kick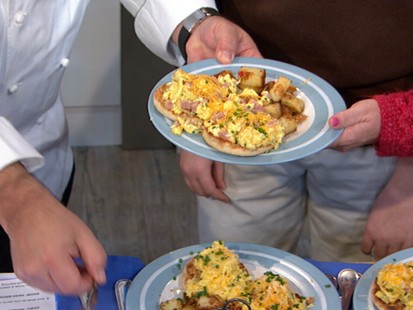 World-famous chef kicks off "Mother's Day Breakfast-in-Bed" contest on "GMA."
From the kitchen of Emeril Lagasse
Ingredients
5 medium baking potatoes, like russets (about 4 pounds), scrubbed
1/4 cup vegetable oil
3 tablespoons unsalted butter
1 cup diced yellow onions
1 cup diced mixed red and green bell peppers
2 teaspoons minced garlic
1 teaspoon Emeril's Original Essence or Creole Seasoning
1 teaspoon chopped fresh thyme
1/2 teaspoon salt, or to taste
1/4 teaspoon ground black pepper, or to taste
Substitute for Emeril's Original Essence:
2 ½ tablespoons paprika
2 tablespoons salt
2 tablespoons garlic powder
1 tablespoon black pepper
1 tablespoon onion powder
1 tablespoon cayenne
1 tablespoon dried oregano
1 tablespoon dried thyme
Cooking Directions
Place the whole potatoes in a large pot, cover with water, and bring to a boil. Lower the heat and simmer until half-cooked and almost tender, about 15 minutes. Drain and let sit until cool enough to handle. Slip the skins from the potatoes and cut into 1/2-inch dice.
Heat the oil and melt the butter in a skillet over high heat. Add the onions and cook, stirring, for 2 minutes. Add the garlic, and cook, stirring, for 20 seconds. Add the potatoes, Essence, thyme, salt, and pepper, and cook without stirring, but shaking the pan occasionally to keep from burning, until the potatoes begin to color and crisp on the underside, about 4 minutes. Turn the potatoes with a spatula being careful not to mash, and continue cooking until uniformly golden. Taste and adjust the seasoning if necessary.
Remove from the pan and serve hot.
For the essence substitute:
In a small bowl combine all the ingredients thoroughly. Store in an airtight container.
Yield: Makes about 2/3 cup
This recipe was styled by chef Karen Pickus for Good Morning America.
Recipe courtesy Emeril Lagasse, copyright MSLO, Inc., all rights reserved.
Recipe Summary
Main Ingredients: potatoes, garlic, bell peppers, thyme, paprika
Course: Brunch, Breakfast