Emeril's Healthy Banana-Oat Waffles
Healthy and Hearty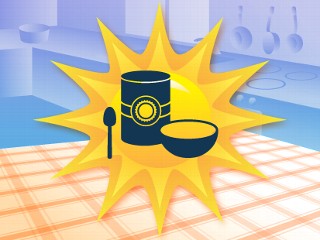 From the kitchen of Emeril Lagasse
|
This recipe is a great reason to dust off your waffle iron. The addition of buttermilk keeps the waffles nice and moist.
Ingredients
1 cup all-purpose flour
½ cup whole wheat flour
½ cup old fashioned oats
2 teaspoons baking powder
½ teaspoon baking soda
1/8 teaspoon salt
1 ½ cups buttermilk
¼ cup honey
2 large eggs, beaten
1 ½ teaspoons vanilla extract
1 very ripe banana, mashed
3 tablespoons unsalted butter, melted
Maple syrup, for serving
Sliced bananas, for serving, optional
Cooking Directions
Preheat the waffle maker. Preheat the oven to 200 degrees F to hold the finished waffles until ready to serve.
In a large mixing bowl whisk together the flours, oats, baking powder, baking soda and salt. In a separate mixing bowl whisk together the buttermilk, honey, eggs, vanilla, banana and melted butter. Pour the liquid ingredients over the dry ingredients and whisk until just incorporated.
Prepare the waffles as instructed on your waffle maker, cooking until the waffles are golden and crisp. Repeat cooking with remaining batter.
Serve immediately with the maple syrup and sliced bananas or toppings of your choice.
This recipe was styled by chef Karen Pickus for Good Morning America.
Recipe courtesy Emeril Lagasse, copyright MSLO, Inc., all rights reserved
Other Recipes That You Might Like