Emeril's Herbed Cheesy Eggs on English Muffin
A Cheesy Breakfast Treat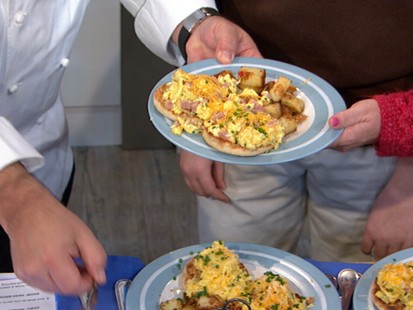 World-famous chef kicks off "Mother's Day Breakfast-in-Bed" contest on "GMA."
From the kitchen of Emeril Lagasse
Ingredients
4 ounces soft mild goat cheese, cream cheese, or Neufchatel, room temperature, or other grated mild melting cheese such as cheddar or American
1 1/2 tablespoons chopped fresh chives
1 teaspoon chopped fresh tarragon leaves
2 tablespoons unsalted butter
2 ounces chopped black forest ham
6 eggs
3 tablespoons milk
1/2 teaspoon salt
1/4 teaspoon freshly ground black pepper
4 to 6 English muffins or crumpets, lightly toasted
Grated Parmigiano-Reggiano cheese, for garnish
Cooking Directions
In a small bowl combine the cheese with 1 tablespoon of the chives and the tarragon and set aside, or cover and refrigerate for up to one week.
Heat a large nonstick saute pan over medium-high heat. When hot, add 1 tablespoon of the butter and, when it begins to bubble, add the ham. Cook the ham for 1 to 2 minutes or until it is just golden brown. Transfer the ham using a slotted spoon to a paper towel lined plate and set aside until ready to use. Wipe the pan clean and return the pan to the stove.
Combine the eggs, milk, salt, and pepper in a medium mixing bowl and whisk well to combine.
Heat the saute pan over medium heat and add the remaining 1 tablespoon of butter. Once the butter has melted add the eggs to the pan. Allow the eggs to set for 30 seconds, then begin stirring slowly with a heat-resistant rubber spatula. As soon as curds begin to form, increase heat to high and instead of stirring, use the spatula to fold the eggs over themselves. Fold in the cheese-herb mixture and the ham and cook for another 45 seconds or until warmed through.
Divide the eggs evenly among the English muffins and garnish with the remaining chopped chives and the grated Parmesan.
Serve immediately.
This recipe was styled by chef Karen Pickus for Good Morning America.
Recipe courtesy Emeril Lagasse, copyright MSLO, Inc., all rights reserved.
Recipe Summary
Main Ingredients: cheddar, eggs, english muffin, goat cheese, cream cheese
Course: Brunch, Breakfast