Emeril's Mascarpone and Marmalade Stuffed French Toast
Treat Your Mother to Emeril's Tasty French Toast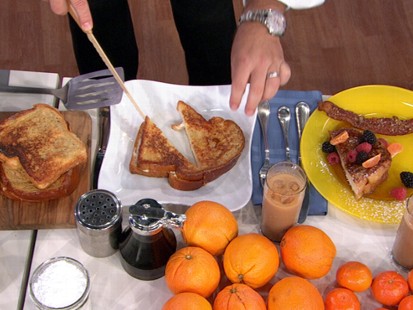 Chef Emeril Lagasse will leave soon to surprise a mother with breakfast in bed.
From the kitchen of Emeril Lagasse
|
It's almost mother's day. So, show yours that you care with a special breakfast like Emeril's French toast.
Ingredients
6 eggs
1/2 cup heavy cream
1/2 orange, juiced
1 1/2 teaspoons orange zest
1/2 teaspoon ground cinnamon
1/4 teaspoon freshly grated nutmeg
1/2 teaspoon vanilla extract
3 tablespoons sugar
1/4 teaspoon salt
8 slices (3/4-inch) day-old brioche or challah bread
16 teaspoons mascarpone (or softened cream cheese)
8 teaspoons orange marmalade
2 tablespoons butter
Confectioners' sugar, for dusting
Maple syrup, for serving
Cooking Directions
In a mixing bowl whisk together the eggs, cream, orange juice, zest, cinnamon, nutmeg, vanilla, sugar, and salt.
Lay the brioche slices flat on a clean work surface. Spread 1 side of each slice with 2 teaspoons of the mascarpone. Spread 2 teaspoons of the marmalade over the mascarpone on half of the slices. Place the slices together to form 4 sandwiches.
Working 1 at a time, dip the sandwich in the egg mixture, letting it sit about 1 1/2 minutes per side. Transfer to a plate and repeat with the remaining sandwiches.
Preheat a large nonstick skillet over low heat. Add 1 tablespoon of the butter. When the butter has melted, add 2 of the sandwiches and cook until golden brown on both sides, about 5 minutes per side. Repeat with the remaining butter and sandwiches.
Cut the French toast "sandwiches" in half and serve hot, dusted with powdered sugar and drizzled with maple syrup, as desired.
This recipe was styled by chef Karen Pickus for Good Morning America.
Other Recipes That You Might Like