Emeril's Minted Fruit Salad with Sparkling Cider Drizzle
A Light and Refreshing Salad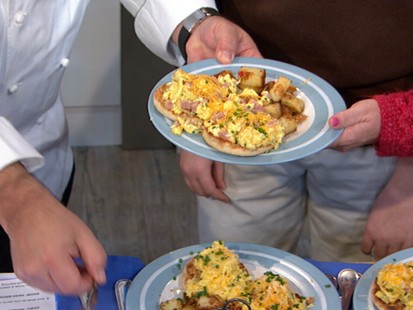 World-famous chef kicks off "Mother's Day Breakfast-in-Bed" contest on "GMA."
From the kitchen of Emeril Lagasse
Ingredients
4 navel oranges or a mix of navel oranges and blood oranges
1 ruby red grapefruit
1 cup sparkling cider, sparkling wine, or nonalcoholic sparkling cider
1/2 cup sugar
Pinch salt
1/2 vanilla bean, scraped
1 tablespoon lemon juice
1 teaspoon finely grated lemon zest
1 pint hulled and sliced fresh strawberries
8 to 10 fresh mint leaves, thinly sliced or minced
Cooking Directions
Cut away the entire peel of the oranges and grapefruits, making sure to remove all white pith. Cut the citrus crosswise into round slices or cut in between the membranes to remove segments. Arrange the citrus slices or segments decoratively on a serving platter and refrigerate, covered, until ready to serve.
Make the syrup: combine the sparkling wine or cider, sugar, salt, and vanilla bean in a medium saucepan over medium-high heat. Simmer until sugar dissolves and syrupy, 6 to 8 minutes. Remove from heat and allow to cool until just warm. Remove vanilla bean. Add lemon juice and zest and stir to combine. Chill until ready to serve the fruit salad.
When ready to serve, scatter the sliced berries over the citrus fruit and drizzle the syrup over all, to taste. Sprinkle with the mint and serve immediately.
This recipe was styled by chef Karen Pickus for Good Morning America.
Recipe courtesy Emeril Lagasse, copyright MSLO, Inc., all rights reserved.
Recipe Summary
Main Ingredients: strawberry, orange, mint, grapefruit, apple cider
Course: Breakfast, Brunch