Emeril's Muffin Pan Strata
Perfect On-The-Go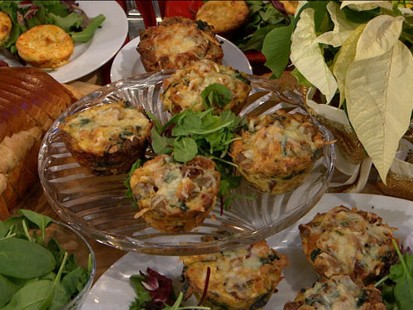 Famous chef makes mini ham and a cheese crustless quiche.
From the kitchen of Emeril Lagasse
This strata, similar to a savory bread pudding, is delicious with gruyere, spinach and sausage. It's a filling and hearty breakfast for early Christmas mornings.
Ingredients
8 cups ¾ inch cubed bread, such as an Italian loaf or Challah
2 cups half and half
6 large eggs
1 teaspoon salt
½ teaspoon freshly ground black pepper
3 tablespoons unsalted butter, softened
1 cup small diced onion
1 pound breakfast sausage
8 ounces fresh baby spinach
1 ½ cups grated gruyere cheese
Cooking Directions
Preheat the oven to 400° F.
Arrange the cubed bread in a single layer on two baking sheets. Toast in the oven until the bread is golden brown, 10 to 12 minutes. Remove from the oven and allow to cool.
In a large bowl, whisk together the half-and-half, eggs, salt and pepper. Add the bread, cover, and set aside for at least 1 hour at room temperature and up to overnight in the refrigerator.
Lightly butter the wells of a 6 cup jumbo muffin pan.
In a medium size sauté pan, over medium heat, melt the remaining butter. Add the onion and cook until the onion is soft and translucent, 5 to 6 minutes. Add the sausage and cook for another 5 minutes. Add the spinach to the pan and cook for 5 minutes longer, or until most of the liquid has evaporated from the pan. Allow the sausage and spinach mixture to cool for at least 5 to 7 minutes.
Fold the sausage and spinach mixture and half of the cheese into the bread. Divide the bread mixture evenly among the six muffin wells. Sprinkle the remaining cheese on top of each strata. Place the muffin tin on top of a baking sheet and place in the oven. Bake the stratas until they are puffed and golden brown and the center is set, about 30 minutes. Let stand for 5 minutes before serving.
To serve, loosen the strata by running an offset spatula around the sides of the pan and gently remove the stratas from the pan to a platter or individual plates.
Recipe courtesy Emeril Lagasse, copyright MSLO, Inc., all rights reserved
This recipe was styled by chef Karen Pickus for Good Morning America.
Recipe Summary
Main Ingredients: bread, half and half, pepper, butter, spinach, gruyere
Course: Breakfast, Brunch
More Info: Kid Friendly