Emeril's Orange, Walnut, and Goat Cheese Salad
A Fall Salad for Your Thanksgiving Table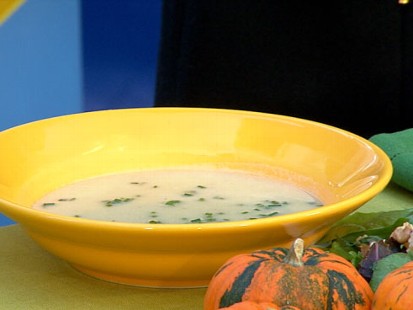 Chef Emeril Lagasse adds a special twist to a traditional Thanksgiving feast.
From the kitchen of Emeril Lagasse
Try Emeril's orange, walnut and goat cheese salad recipe for "Good Morning America." This salad add a light touch to a traditional heavy Thanksgiving dinner.
Ingredients
1/2 cup roughly chopped walnuts
2 medium oranges
8 ounces mesclun salad greens or spring greens mix
2 shallots, cut into thin rings (about 1/3 cup)
5 tablespoons olive oil
2 tablespoons balsamic vinegar
1/4 teaspoon salt, plus more to taste
1/8 teaspoon freshly ground black pepper, plus more to taste
1/8 teaspoon sugar
3 ounces soft, mild goat cheese, crumbled
Cooking Directions
Preheat the oven to 350°F.
Spread the walnuts on a small baking sheet and toast until fragrant and lightly colored, 5 to 6 minutes.
Set aside until cooled slightly.
Cut away the peels from the oranges, leaving no white pith. Holding them over a small bowl, segment
the oranges, catching any juices.
In a large bowl, combine the greens, orange segments, and shallot rings.
In a small bowl, combine the oil, vinegar, salt, pepper, sugar, and 2 tablespoons of the reserved orange juice. Whisk to combine. Taste, and adjust the seasoning if necessary. Drizzle the dressing over the salad, tossing to coat it evenly. Add the goat cheese and chopped walnuts, and toss gently to combine.
Season lightly with salt and pepper if desired, and serve immediately.
This recipe was styled by chef Karen Pickus for Good Morning America.
Recipe courtesy Emeril Lagasse, Emeril 20-40-60: Fresh Food Fast, HarperCollins Publisher, New York, 2009, copyright MSLO, Inc., all rights reserved
Recipe Summary
Main Ingredients: walnuts, oranges, mesclun, spring greens
Course: Salad