Emeril's Pea Soup
A Great First Course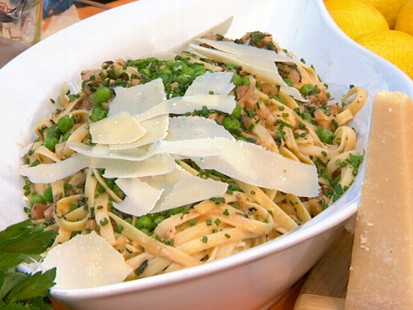 Emeril Lagasse prepares a delicious dish perfect for the spring season.
From the kitchen of Emeril Lagasse
|
Note: Please use caution when blending hot liquids; blend only small amounts at a time, with the blender tightly covered and a kitchen towel held over the top.
Ingredients
1/2 cup sour cream
1 teaspoon freshly squeezed lemon juice
1/2 teaspoon lemon zest
2 tablespoons butter
11/4 cups thinly sliced onion (about 1 medium onion)
1 medium clove garlic, thinly sliced
3 sprigs fresh mint
3 sprigs fresh parsley
4 cups vegetable stock or canned, low-sodium vegetable broth
1 pound frozen green peas
1/2 teaspoon salt
1/4 teaspoon freshly ground white pepper
11/2 cups packed prewashed spinach (about 2 ounces)
Cooking Directions
Combine the sour cream, lemon juice, and lemon zest. Cover and refrigerate until ready to use.
Melt the butter in a 4-quart or larger pot over medium-high heat. Add the onion and garlic and cook until soft and translucent, 4 minutes.
Gather the herbs into a bunch and secure with kitchen twine. Add the vegetable stock and the herb bundle to the onion, cover, and bring to a boil. Uncover, reduce the heat to a simmer, and cook for 3 minutes. Increase the heat to high, return the soup to a boil, and add the peas. Bring the soup back to a boil, reduce the heat, and simmer for 2 minutes longer. Remove the soup from the heat. Remove the herb bundle. Stir in the salt, white pepper, and spinach.
Puree the soup using an immersion blender or in two batches using a blender (see Note).
Serve immediately with a dollop of the lemony sour cream.
Yield: About 11/2 quarts, 4 to 6 servings
Recipe courtesy Emeril Lagasse, adapted from Emeril 20-40-60, Fresh Food Fast, Harper Studio Publisher, New York, 2009, copyright MSLO, Inc., all rights reserved.
This recipe was styled by chef Karen Pickus for Good Morning America.
Other Recipes That You Might Like