Emeril's Potato and Leek Soup
Warm Up on Thanksgiving With This Soup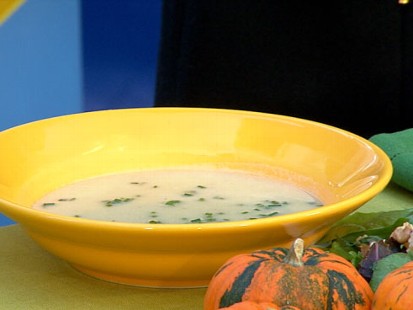 Chef Emeril Lagasse adds a special twist to a traditional Thanksgiving feast.
From the kitchen of Emeril Lagasse
Emeril's potato and leek soup is the perfect start to your Thanksgiving menu. Garnish the soup with a sprinkle of fresh chives.
Ingredients
1 large or 2 small leeks (about 1 pound)
2 bay leaves
20 black peppercorns
4 sprigs fresh thyme
2 tablespoons butter
2 slices bacon, diced
1/2 cup dry white wine
5 cups chicken stock or canned, low-sodium chicken broth
1 to 11/4 pounds russet potatoes, peeled and diced into 1-inch cubes
11/2 teaspoons salt
3/4 teaspoon freshly ground white pepper
1/2 to 3/4 cup crème fraîche or heavy cream
2 tablespoons snipped fresh chives
Cooking Directions
Trim the green portions of the leek, and using 2 of the largest and longest leaves, make a bouquet garni by folding the 2 leaves around the bay leaves, peppercorns, and thyme. Tie into a package-shaped
Bundle with kitchen twine, and set aside. (Alternatively, tie the 2 leek leaves, bay leaves, peppercorns, and thyme together in a piece of cheesecloth.)
Using a sharp knife, halve the white part of the leek lengthwise. Rinse the leek well under cold running water to rid it of any sand. Slice thinly crosswise and set aside.
Melt the butter in a large soup pot over medium heat, and add the bacon. Cook, stirring occasionally,
until the bacon is soft and has rendered most of its fat, about 5 minutes. Add the chopped leeks and cook until wilted, about 5 minutes. Add the wine and bring to a boil. Add the reserved bouquet garni and the chicken stock, potatoes, salt, and white pepper. Bring to a boil. Then reduce the heat to a simmer and cook for about 20 minutes, or until the potatoes are tender and the soup is very flavorful.
Remove the bouquet garni and puree the soup using an immersion blender or in batches in a blender
(see Note). Stir in the crème fraîche, and adjust the seasoning if necessary. Serve immediately, with some of the snipped chives sprinkled over the top of each bowl of soup.
Note: Please use caution when blending hot liquids; blend only small amounts at a time, with the blender tightly covered and a kitchen towel held over the top.
Recipe courtesy Emeril Lagasse, Emeril 20-40-60: Fresh Food Fast, HarperCollins Publisher, New York, 2009, copyright MSLO, Inc., all rights reserved
This recipe was styled by chef Karen Pickus for Good Morning America.
Recipe Summary
Main Ingredients: pepper, heavy cream, leeks, potato, bay leaves
Course: Soup