Emeril Lagasse's Pumpkin Custard Pie
Try This Thanksgiving Classic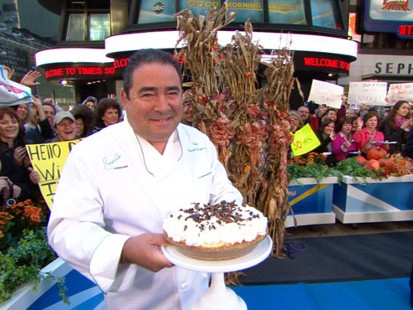 Emeril Lagasse prepares favorite recipes, including banana cream and pecan pies.
From the kitchen of Emeril Lagasse
GMA" is counting down to Thanksgiving all month long. We're inviting the nation's top chefs to share their recipes, tips and tricks for making every part of your holiday dinner. Try Emeril Lagasse's recipe for a pumpkin custard pie.
Ingredients
For the Filling:
1 egg white, lightly beaten
2 cups Pumpkin Puree (recipe follows)
11/4 cups packed light brown sugar
1/2 cup packed dark brown sugar
4 eggs, lightly beaten
3/4 cup heavy cream
1 tablespoon vanilla extract
1/4 teaspoon ground cinnamon, plus
extra for dusting
1/4 teaspoon ground nutmeg
1/4 teaspoon ground allspice
1/4 teaspoon ground ginger
1/4 teaspoon ground cardamom
Whipped cream, for serving
For the Pie Crust:
11/4 cups all-purpose flour
1 tablespoon sugar
1/4 teaspoon salt 8 tablespoons (1 stick) cold unsalted butter, cut into pieces
3 to 4 tablespoons ice water
Cooking Directions
Pie Crust Directions:
Place the flour, sugar, and salt in the bowl of a food processor, and pulse to combine. Add the butter and process until the mixture resembles coarse crumbs. While the machine is running, slowly drizzle in the water, 1 tablespoon at a time, and continue to process by pulsing until the dough just comes together to form a ball (you may not need to use all of the water, or you may need a bit more).
Transfer the dough to a lightly floured surface and shape it into a flat disk. Wrap it in plastic wrap and refrigerate it for at least 1 hour or up to overnight. (The dough can be frozen for up to a month; thaw it in the refrigerator before using.)
Pie Filling Directions:
Place the pie crust dough on a lightly floured work surface, and roll it out to form a round that is about 13 inches in diameter and 1/8 inch thick. Working carefully, fit the round into a 10-inch deep-dish pie plate. Crimp the edges decoratively and then refrigerate the shell, lightly covered, for at least 1 hour and up to overnight.
Preheat the oven to 425°F.
Lightly coat one side of a piece of parchment paper with cooking spray, and position it, greased side down, on top of the chilled pie crust. Fill the crust with pie weights (dried rice or beans work fine) and blind-bake the crust until it is just set, 10 to 12 minutes. Remove the weights and parchment paper, and using a pastry brush, immediately brush the crust lightly with the egg white. Set it aside until cooled, about 20 minutes.
Reduce the oven temperature to 375°F.
Combine the pumpkin purée and all the remaining ingredients (except the whipped cream) in a large mixing bowl, and stir until well blended. Pour the filling into the pie crust, and bake until the custard is set and the crust is lightly golden, about 1 hour. (If the crust begins to brown too quickly, cover it with a rim of tented foil).
Let the pie cool completely. Slice, and serve with a dollop of whipped cream.
Recipe courtesy Emeril Lagasse, from Farm to Fork: Cooking Local, Cooking Fresh, William Morrow Publisher, 2010, copyright MSLO, Inc., all rights reserved.
Recipe styled by Karen Pickus, chef/food stylist, "Good Morning America."
Recipe Summary
Main Ingredients: butter, flour, salt, pumpkin, sugar
Course: Dessert