Emeril's Pumpkin Lasagna with Italian Sausage and Sage
Lasagna is Updated With Fall Flavors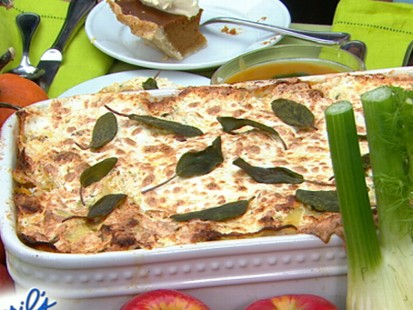 "GMA" food correspondent prepares recipes for your own pumpkin palooza.
From the kitchen of Emeril Lagasse
|
Try Emeril's pumpkin lasagna with Italian sausage and sage.
Ingredients
3 pounds sugar or pie pumpkin or other winter squash, such as butternut, peeled and diced
1/4 cup extra- virgin olive oil
1/2 teaspoon ground cinnamon
4 sprigs fresh thyme
1 bay leaf
1 1/2 teaspoons salt
1 teaspoon freshly ground black pepper
2 tablespoons olive oil
1 1/2 cups small- diced onion
1 cup small- diced fennel
1 cup cored and small- diced Pink Lady or Honeycrisp apple
1 1/2 pounds fresh fennel sausage, removed from casings and crumbled
2 teaspoons chopped fresh marjoram leaves
4 tablespoons (1/2 stick) unsalted butter
1/4 cup plus 1 tablespoon fresh sage leaves, thinly sliced
1/2 cup chopped lightly toasted hazelnuts
1 pound whole- milk ricotta cheese
8 ounces mascarpone cheese
1/2 cup heavy cream
2 eggs, lightly beaten
1 pound whole- milk mozzarella cheese, grated (4 cups)
3/4 cup finely grated Parmigiano- Reggiano cheese
1/2 cup chicken stock or canned low- sodium chicken broth
12 sheets no- boil lasagna noodles (about 8 ounces)
Cooking Directions
Preheat the oven to 350°F.
In a large mixing bowl, combine the pumpkin with the extra- virgin olive oil, cinnamon,
thyme, bay leaf, 1 teaspoon of the salt, and 1/2 teaspoon of the pepper and toss to coat.
Transfer to a large baking sheet and cover with aluminum foil. Bake until tender, about 30 minutes. Set aside, covered, until cool. Remove and discard the thyme sprigs and bay leaf.
Heat a medium sauté pan over medium- high heat. When hot, add the olive oil, onion, fennel, apple, sausage, and marjoram and cook for 8 to 10 minutes, stirring occasionally, until the sausage has browned and the vegetables have softened. Remove from the heat, transfer to a large mixing bowl, and set aside to cool. Gently fold the pumpkin into the vegetable- sausage mixture.
Heat the butter in a small sauté pan over medium heat. When the butter begins to bubble and brown, add 1/4 cup of the sage leaves and cook until they are brown and crisp, 1 to 11/2 minutes. Add the chopped hazelnuts and cook for another minute. Remove from the heat and set aside to cool.
In a separate large mixing bowl, combine the ricotta, mascarpone, heavy cream, beaten eggs, half of the mozzarella, and the remaining 1/2 teaspoon pepper and 1/2 teaspoon salt. Mix well to combine, then add the cooled brown- butter- sage hazelnut mixture and mix thoroughly.
Increase the oven temperature to 375°F.
Assemble the lasagna: Spread half of the pumpkin mixture in the bottom of the pan, sprinkle with 1/4 cup of the Parmesan, drizzle 1/4 cup of the stock over the top, and cover with 4 pasta sheets, leaving a little space between sheets. Spread 3 cups of the ricotta cheese mixture over the pasta
sheets and cover with 4 more pasta sheets. Distribute the remaining half of the pumpkin mixture over the pasta, sprinkle the top with 1/4 cup of the remaining Parmesan, and drizzle with the remaining 1/4 cup stock. Place the final 4 pasta sheets over the top and spread the remaining ricotta mixture evenly over the pasta. Top with the remaining grated mozzarella and 1/4 cup Parmesan.
Cover the lasagna tightly with a piece of buttered foil and bake, undisturbed, for 40 minutes. Remove the foil and continue to bake until the top is bubbly and golden brown, about 15 minutes more. Let the lasagna stand for 15 to 20 minutes before serving. Garnish with the remaining tablespoon of sage.
Recipe courtesy Emeril Lagasse, adapted from Sizzling Skillets and Other One Pot Wonders, Harper Collins Publisher, New York, 2011, copyright MSLO, Inc., all rights reserved
This recipe was styled by chef Karen Pickus for Good Morning America.
Other Recipes That You Might Like