Emeril's Red Velvet Whoopie Pies
Cakes Filled With Marshmallow Creme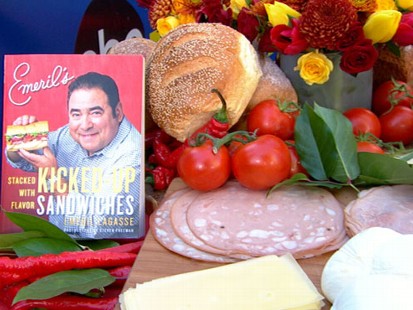 Celebrity chef shares recipes from his new book, "Emeril's Kicked-Up Sandwiches."
From the kitchen of Emeril Lagasse
Try Emeril's red velvet whoopie pies filled with marshmallow creme. Make these for bake sales or when you're craving something sweet!
Ingredients
For the mini cakes:
2 cups all-purpose flour
1/2 cup unsweetened cocoa powder
1 teaspoon baking soda
¼ teaspoon salt
8 tablespoons (1 stick) unsalted butter, at room temperature
1 cup granulated sugar
1 large egg
2 tablespoons red food coloring
1 1/2 teaspoons vanilla extract
1 cup buttermilk
For the filling:
1 1/2 cups confectioners' sugar
One 7-ounce container marshmallow creme
4 ounces cream cheese, at room temperature
2 tablespoons unsalted butter, at room temperature
1 teaspoon vanilla extract
Cooking Directions
To make the mini cakes: Preheat the oven to 400°F. Using cooking spray, grease two 11 3/4 x 17 1/2-inch jelly roll pans. Set the pans aside. In a medium mixing bowl, combine the flour, cocoa powder, baking soda, and salt. Set aside.
In the bowl of a standing mixer fitted with the paddle attachment, or in a medium mixing bowl, cream together the butter and granulated sugar. Add the egg and mix until it is fully incorporated. Add the red food coloring and the vanilla, and beat until well blended. Scrape the sides and bottom of the bowl and mix again. In thirds, alternately add the buttermilk and the flour mixture, beginning with the buttermilk and ending with the flour. Mix until the ingredients are just combined.
Place half of the batter in a piping bag fitted with a plain tip, and pipe twelve 2 1/2-inch-diameter cookies onto the prepared jelly roll pans, spacing them 2 inches apart. Moisten your fingertip with water and smooth the top of each cookie. Bake the cookies, one pan at a time, for 6 minutes, or until they have puffed up. Allow the cookies to cool on the pan for 1 minute, and then transfer them to a wire rack to cool completely.
To make the filling: Combine the confectioners' sugar, marshmallow creme, cream cheese, butter, and vanilla in the bowl of a standing mixer fitted with the paddle attachment and mix until well blended. (You can make this filling up to 24 hours in advance.) Cover and refrigerate.
To assemble the cookies; Spread 1 tablespoon of the filling over half of the cookies, and top with the remaining cookies.
Recipe courtesy Emeril Lagasse, from Emeril's Kicked Up Sandwiches: Stacked with Flavor, Harper Collins publisher, New York, 2012, copyright MSLO, Inc., all rights reserved
This recipe was styled by chef Karen Pickus for Good Morning America.
Recipe Summary
Main Ingredients: buttermilk, flour, cocoa powder, food coloring
Course: Dessert
More Info: Kid Friendly