Emeril's Rhubarb Strawberry Pie
Sweeten your day with a slice of pie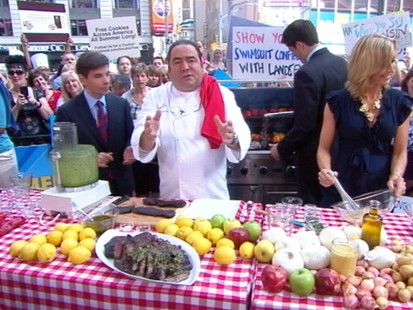 Emeril Lagasse also prepares potato salad for a memorable Memorial Day feast.
From the kitchen of Emeril Lagasse
|
Strawberries and rhubarb are in season, so it's time to give dessert a kick. Try Emeril's pie tonight.
Ingredients
For the crust:
1 1/3 cups all purpose flour
1/4 teaspoon salt
8 tablespoons (1 stick) cold unsalted butter, cut into ¼-inch dice
5 tablespoons ice water
For the filling:
One recipe Flaky Pie Crust, above, or one 10-inch store-bought pie crust (unbaked)
1 cup sliced almonds
1 1/2 cups light brown sugar
1 1/3 cups all purpose flour
6 tablespoons cold unsalted butter, cut into pieces
1 1/2 pounds rhubarb, washed, trimmed and cut into ½-inch pieces, about 4 cups
1 pound strawberries, washed, hulled, and halved
1 teaspoon cinnamon
1 teaspoon pure almond extract
Vanilla ice cream or Whipped cream for serving
Cooking Directions
For the crust: Combine the flour and salt in a medium mixing bowl. Add the butter and cut it into the flour with a pastry blender, fork, or your fingers until the mixture resembles coarse crumbs. Sprinkle in the ice water while continuing to blend. Press the dough into a ball, and work it with your hands until the mixture just comes together. Flatten it into a disk and wrap it in plastic wrap. Chill the dough in the refrigerator for at least 1 hour and up to 2 days. (The dough can also be frozen and then thawed in the refrigerator before using.)
For the filling: Preheat the oven to 400 degrees F. Line a baking sheet with parchment paper.
Using a lightly floured rolling pin, roll the pie crust dough into a 12-inch circle on a lightly floured work surface. Transfer it to a 10-inch pie pan and crimp the edges decoratively. Refrigerate until ready to use.
In a medium bowl add the almonds, 1/2 cup of the sugar, 1 cup of the flour, and the butter. Using your hands, blend well, until the mixture resembles a crumb like texture. Refrigerate until ready to use.
In another medium bowl combine the rhubarb and the strawberries. Add the remaining 1 cup of sugar, 1/3 cup flour, the cinnamon, and the almond extract. Stir to mix well.
Remove the pie crust from the refrigerator and set on the prepared baking sheet. Fill the pie crust with the fruit filling. Top the fruit filling with the almond crumb mixture. Bake in the oven for 55 minutes, or until the topping is golden brown and the filling is bubbling. Remove the pie from the oven and set on a cooling rack. Allow the pie to cool at least 20 minutes before slicing. For best results, cool to room temperature before slicing. Serve with vanilla ice cream or whipped cream.
Other Recipes That You Might Like