Emeril's Roasted Pear Salad with Endive, Chicory, and Pomegranate Vinaigrette
Don't Forget The Salad This Thanksgiving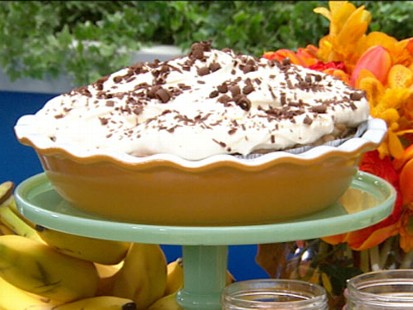 Chef introduces America to final five in his "Pie in Emeril's Eye" contest.
From the kitchen of Emeril Lagasse
With all of the different side dishes to chose from on Thanksgiving, it's easy to forget about salad. Try this gorgeous fall salad with roasted pears and endive that's perfect when you don't want something so heavy!
Ingredients
4 tablespoons melted unsalted butter
2 tablespoons honey
2 tablespoons freshly squeezed orange juice
½ teaspoon salt
¼ teaspoon pepper
4 each firm-ripe Anjou pears, cut in half, core removed
2 Belgian endive, cut into bite size pieces
1 head chicory, cut into bite size pieces
1 cup pomegranate seeds, for garnish
Crumbled blue cheese, for garnish, optional
1 recipe Pomegranate Vinaigrette, recipe follows
For the vinaigrette:
1 cup pomegranate juice
1 tablespoon minced shallots
1 teaspoon honey
1/2 teaspoon salt
¼ teaspoon freshly ground black pepper
1 tablespoon apple cider vinegar
2 tablespoons olive oil or grapeseed oil
Cooking Directions
Preheat the oven to 400 degrees F.
In a small bowl combine the butter, honey, orange juice, ½ teaspoon salt, and ¼ teaspoon pepper and whisk well. Arrange the pear halves inside a shallow baking dish or low-sided baking sheet. Drizzle with the honey butter mixture. Half way through baking, baste the pears with the honey butter that has accumulated at the bottom of the dish. Bake until the pears are beginning to brown, about 25 to 30 minutes. Allow the pears to cool to room temperature. Cut the pears into ½ inch chunks and set aside.
In a large bowl, combine the endive, chicory and the roasted pears and toss well. Divide the salad between 6 plates, garnish with the pomegranate seeds and with crumbled blue cheese if desired. Drizzle with the pomegranate vinaigrette and serve immediately.
For the vinaigrette:
In a small stainless steel or non-reactive saucepan over high heat, boil the pomegranate juice until reduced to 1/3 cup, approximately 9 or 10 minutes. Remove from heat. Stir in the honey, salt, pepper, apple cider vinegar, and olive oil. Set aside to cool.
This recipe was styled by chef Karen Pickus for Good Morning America.
Recipe courtesy Emeril Lagasse, copyright MSLO, Inc., all rights reserved
Recipe Summary
Main Ingredients: pomegranate, butter, honey, blue cheese, pear
Course: Salad
More Info: Kid Friendly