Emeril's Roasted Pumpkin Soup
Warm Up With This Fall Soup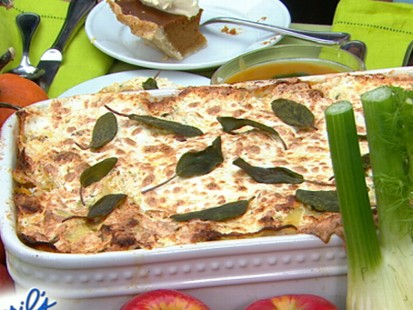 "GMA" food correspondent prepares recipes for your own pumpkin palooza.
From the kitchen of Emeril Lagasse
Try Emeril Lagasse's roasted pumpkin soup recipe. Serve with a drizzle of homemade herb oil for a flavor boost.
Ingredients
4 pounds sugar or pie pumpkin or other winter squash, such as butternut or acorn, peeled, seeded, and cut into 3-inch chunks
1/4 cup olive oil
1 tablespoon salt
1 teaspoon freshly ground black or white pepper
3 tablespoons butter
3 cups chopped onions
1/2 cup chopped carrots
1 clove garlic, smashed
1 or 2 sprigs fresh thyme
1 cup brandy
4 cups chicken stock or canned low-sodium chicken broth, plus more if needed
4 cups water
Crème Fraîche, for garnish
Herb Oil of choice, for garnish (recipe follows, optional)
For the herb oil:
4 cups water
2 ounces (about 2 bunches) fresh chives, snipped to 3-inch lengths (2 cups), basil leaves, or mint leaves
3/4 cup canola, grapeseed, or other vegetable oil
1/8 teaspoon salt
Cooking Directions
Preheat the oven to 450°F. Line a rimmed baking sheet with parchment paper.
Place the cut squash in a large bowl and toss with the olive oil, 1 teaspoon of the salt, and ½ teaspoon of the pepper. Transfer the pumpkin to the prepared baking sheet and roast in the oven for 25 minutes, or until the squash is lightly caramelized and tender. Remove it from the oven and set aside.
While the pumpkin is roasting, melt the butter in a 6-quart pot over medium heat. Add the onions, carrots, garlic, thyme, 2 teaspoons salt, and ½ teaspoon pepper. Cook until the vegetables are soft, about 10 minutes. Add the brandy, cook for 5 minutes, and then add the stock and water. Bring to a boil, reduce the heat, and simmer for 15 minutes.
Add the roasted squash to the pot, and remove it from the heat. Discard the thyme sprigs.
Blend the soup using an immersion blender, or in several batches in a blender until it is completely
smooth. Transfer the blended soup to a decorative soup pot or to individual serving bowls. Serve hot,
garnished with a dollop of crème fraîche and a drizzle of herb oil if desired.
3 quarts, 8 to 10 servings
For the herb oil:
In a small bowl, combine 1 cup ice cubes with 1 cup of the water. Set it aside.
Bring the remaining 3 cups water to a boil in a small saucepan. Add the herbs all at once, stirring to
make sure they are submerged, and cook for 10 seconds. Immediately transfer them, using a slotted
spoon, to the ice bath. Once they have cooled, remove them and set them on paper towels.
Squeeze the paper towels gently but firmly in your hands to absorb as much liquid as possible.
Combine the blanched herbs, oil, and salt in a blender and mix on high speed for 1½ to 2 minutes, until thoroughly combined. Transfer the oil to a small container, cover, and refrigerate for up to 1 week. (If you like, strain the oil through a fine-mesh sieve.)
Recipe courtesy Emeril Lagasse, adapted from Farm to Fork: Cooking Local, Cooking Fresh, Harper Collins Publisher, New York, 2010, copyright MSLO, Inc., all rights reserved
This recipe was styled by chef Karen Pickus for Good Morning America.
Recipe Summary
Main Ingredients: salt, pepper, pumpkin, onions, carrots, garlic
Course: Soup
More Info: Kid Friendly