Emeril's Sausage and Walnut Stuffing
The Best Stuffing Recipe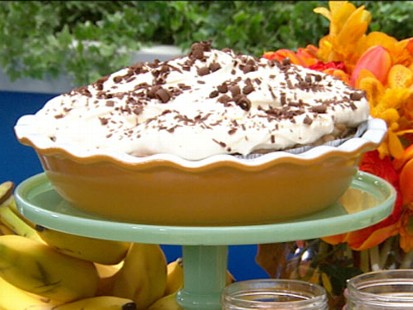 Chef introduces America to final five in his "Pie in Emeril's Eye" contest.
From the kitchen of Emeril Lagasse
|
This easy stuffing is the perfect Thanksgiving side dish. With hearty fennel sausage, sweet currants, and crunchy walnuts- the texture and flavor will blow you away!
Ingredients
1 loaf crusty, white bread, cut into ½ inch cubes (10 cups)
¼ cup unsalted butter
1 medium yellow onion, medium dice (about 1 ¼ cups)
1 stalk celery, medium dice
1 clove garlic, minced
1 cup mild Italian sausage or fennel sausage, cooked and crumbled
1 cup walnuts, toasted and chopped
¼ cup currants or other dried fruit of choice such as cranberries
2 tablespoons parsley, roughly chopped
2 teaspoons sage, chiffonade or finely chopped
1 teaspoon salt
1/2 teaspoon freshly ground black pepper
3 eggs, lightly beaten
2 cups chicken stock
½ cup heavy cream
Cooking Directions
Preheat the oven to 400 degrees F.
Arrange the cubed bread in a single layer on two baking sheets. Toast in the oven until the bread is golden brown, 10 to 12 minutes. Remove from the oven and allow to cool.
Lightly butter an 8-by-12 inch or other similar size baking dish.
In a medium size sauté pan, over medium heat melt the remaining butter. Add the onion, celery and the garlic and cook until the onion is soft and translucent, 5 to 6 minutes. Add the sausage, walnuts, currants, parsley, sage and salt and pepper to the pan and cook for 2 minutes longer.
Transfer all of the ingredients to a large bowl. Add the eggs and stir well. Combine the chicken stock and heavy cream in a measuring cup or pitcher. Add the mixture to the bowl in two additions, stirring until all the liquid has been absorbed. Transfer the stuffing to the prepared baking dish. Bake, uncovered, until golden brown on top, 25 to 30 minutes. The stuffing may be served warm or at room temperature.
Recipe courtesy Emeril Lagasse, copyright MSLO, Inc., all rights reserved.
This recipe was styled by chef Karen Pickus for Good Morning America.
Other Recipes That You Might Like