Emeril's Simple Chocolate Truffles
Recipe Courtesy Emeril Lagasse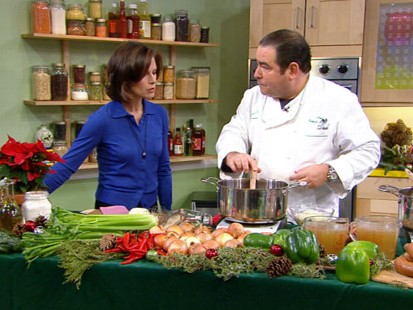 The master chef cooks turkey bone gumbo, chicken and andouille jambalaya.
From the kitchen of Emeril Lagasse
Are you looking for a decadent chocolate treat? Look no further, Emeril's rich chocolate truffles are sure to hit the spot.
Ingredients
1 2/3 cups heavy cream
7 tablespoons unsalted butter, cubed
1 vanilla bean, halved, seeds scraped from pod
1 pound good quality semisweet chocolate, finely chopped
1 to 2 tablespoons Nocello, or other liqueur, as desired, or strong brewed coffee such as espresso
1 cup lightly toasted cashews, finely chopped, for coating truffles, or 1 cup sifted unsweetened Dutch process cocoa powder
Cooking Directions
In a saucepan, bring the cream, butter, and vanilla bean and seeds to a simmer over medium heat. Remove the pan from the heat and remove the vanilla bean. Add the chocolate and set aside for 1 minute. Whisk until smooth. Mix in the Nocello. Cool completely, stirring occasionally, usually about 30 minutes. Chill the mixture, covered, until firm, usually 2 to 3 hours.
If coating truffles with the nuts, line a baking sheet with waxed paper and place the chopped, toasted nuts in a medium bowl or baking dish. Using a melon baller, scoop the truffle mixture to form 1 inch round balls. Roll lightly in your hands if necessary to shape, then roll in the nuts, pressing lightly so that nuts adhere to the truffle. Place truffles on prepared baking sheet, cover and chill until firm, about 2 hours.
(If coating with cocoa powder, scoop and roll the truffles as directed above and then roll in sifted unsweetened cocoa powder.)
This recipe was styled by chef Karen Pickus for Good Morning America.
Recipe Summary
Main Ingredients: heaqvy cream, butter, cocoa powder, vanilla, semi-sweet chocolate, liquor, cashews
Course: Dessert, Party Platter, Snack