Emeril's Spinach, Ham and Cheese Breakfast Casserole
A One-Dish Breakfast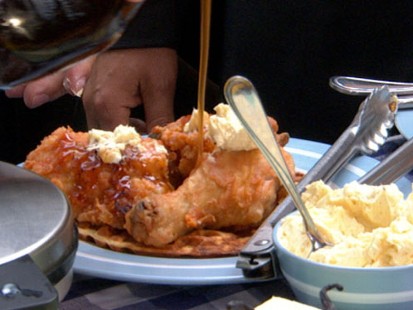 Famous chef previews mouthwatering recipes for breakfast in bed extravaganza.
From the kitchen of Emeril Lagasse
The delicious breakfast casserole is full of fresh herbs and spinach.
Ingredients
1 tablespoon olive oil
2 teaspoons kosher salt, plus more for seasoning
1 cup finely chopped onion
1 cup small diced ham (5 oz)
4 ounces shredded cheddar cheese
4 cups 1-inch diced English muffins
1 pound fresh spinach leaves, cooked and squeezed dry, or One 10-ounce package frozen chopped spinach, prepared according to package directions, well-drained
6 large eggs
1 ½ cups half and half
1 teaspoon chopped fresh thyme leaves
¼ teaspoon cayenne pepper
2 ounces finely grated Parmesan cheese
Cooking Directions
Heat the olive oil in a small sauté pan over medium-high heat. Add the onions and a couple of pinches of salt and cook, stirring occasionally, until soft, about 4 minutes. Remove from the heat and set aside to cool.
In a large mixing bowl, combine the cooled onions, ham, cheddar cheese, English muffins and spinach and toss gently to combine. Transfer to a well-greased 11.5 x 8-inch glass baking dish; spread the mixture out evenly.
Using the same bowl, add the eggs, half and half, the 2 teaspoons salt, thyme, and cayenne pepper. Whisk to mix well and pour over the bread mixture. Cover with foil and store in the refrigerator up to overnight.
Preheat the oven to 375 degrees F. Place the casserole in the oven and bake for 45 minutes. Remove the foil and sprinkle the Parmesan cheese evenly over the top. Return to the oven and continue cooking until golden brown, puffed, and cooked through, about 30 minutes more.
Place on a cooling rack and let rest for 10 to 15 minutes before serving.
Recipe courtesy Emeril Lagasse, copyright MSLO, Inc., all rights reserved
This recipe was styled by chef Karen Pickus for Good Morning America.
Recipe Summary
Main Ingredients: parmesan, pepper, thyme, cayenne, onion, ham
Course: Brunch