Emeril's Steak and Egg Breakfast Panini
Start the Morning Off Right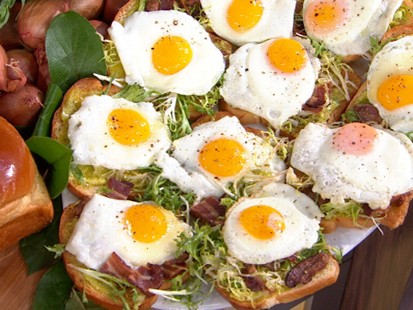 TV chef discusses the launch of his annual 'Breakfast in Bed' Mother's Day competition on "GMA."
From the kitchen of Emeril Lagasse
Try this hearty breakfast sandwich from the "GMA" chef.
Ingredients
1 pound, 1-inch thick strip steak, or rib-eye
1 teaspoon salt
3/4 teaspoon freshly ground black pepper
1 tablespoon vegetable oil
1 cup chopped onion
1 1/2 cups sliced shitake mushrooms
1 teaspoon minced garlic
3 tablespoons butter, softened
6 eggs, whisked
Pinch of cayenne
6 English muffins, split
6 slices Swiss or cheddar cheese
Sriracha or your favorite hot sauce for serving
Cooking Directions
Season the steak all over with 1/2 teaspoon of the salt and 1/2 teaspoon of the black pepper.
Heat a 12-inch saute pan over high heat for 5 minutes. Add the oil and the steak. Reduce the heat to medium and cook the steak for 5 minutes, until well browned. Turn the steak and cook on the other side for 5 minutes longer, for medium. Remove the steak from the pan and set aside to rest at least 10 minutes. Then slice the steak thinly across the grain.
Add the onion and mushrooms to the pan and cook, stirring frequently, until softened, about 10 minutes. Stir in the garlic, 1/4 teaspoon of the salt and the remaining 1/4 teaspoon black pepper and remove from the heat.
Heat a 12-inch non-stick skillet over medium heat and add 1 tablespoon of the butter. Add the eggs, the remaining 1/4 teaspoon of salt and cayenne. Reduce the heat to low and scramble the eggs for 1 1/2 to two minutes. Remove from the heat.
Heat the Emeril by T-fal Rotary Waffle and Panini maker on setting 4 or another Panini maker according to the manufacturer's instructions.
Assemble the sandwiches. Divide the scrambled eggs among the bottom halves of the muffins, then top with the mushrooms, slices of steak, and a slice of cheese (that has been halved on the diagonal for a better fit). Add the top half of the English muffin. Butter the outsides of the sandwich with the remaining butter and cook in the Panini maker. If using the Emeril Panini Maker, press the sandwich closed in the machine and flip. Cook the sandwich until the bread is crisp and the cheese is melted, about 3 to 4 minutes. Cut the sandwiches in half and serve immediately with the Sriracha.
Recipe courtesy Emeril Lagasse, copyright MSLO, Inc., all rights reserved
This recipe was styled by chef Karen Pickus for Good Morning America.
Recipe Summary
Main Ingredients: english muffins, salt, butter
Course: Breakfast