Emeril's Strawberry Shortcake
Turn Summer Fresh Fruits Into Scrumptious Desserts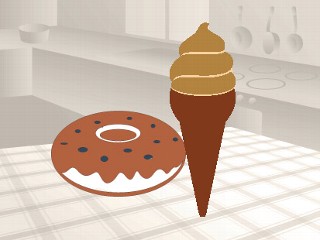 From the kitchen of Emeril Lagasse
Strawberries — those red heart-shaped refreshing fruits — are always the tastiest during the summer months. Take advantage of the berries while they're at their best with Emeril Lagasse's recipes for strawberry shortcake.
Ingredients
Cake
2 cups fresh strawberries, sliced and hulled
2 large eggs
1/2 cup vegetable oil
1 cup granulated sugar
1 1/2 cups all-purpose flour
1 teaspoon baking soda
1/2 teaspoon baking powder
1/2 teaspoon ground cinnamon
1/4 teaspoon salt
1/2 cup macadamia nuts, chopped
Macerated strawberries
1 quart fresh strawberries, rinsed, hulled and sliced
1/4 to 1/3 cup granulated sugar, depending upon the sweetness of the berries, or more to taste
1 tablespoon Grand Marnier liqueur
1 teaspoon finely grated orange peel
Sweetened Whipped Cream
1 cup cold heavy cream
1 tablespoon confectioners sugar
Cooking Directions
Cake
Preheat the oven to 350° F. Grease an 9-inch round cake pan and set aside.
Place the strawberries in a blender or food processor, and puree on high speed.
In a large bowl, beat together the eggs, sugar, and oil. Add the strawberries and whisk until well blended.
Into a separate bowl, sift together the flour, baking soda, baking powder, cinnamon, and salt. Fold into the strawberry mixture, blending until moistened. Fold in the nuts, being careful not to overmix. Pour into the prepared pan and bake until a tester inserted into the middle comes out clean, 50 minutes.
Remove from the oven and transfer to a wire rack. Let sit for 10 minutes, then turn onto the wire rack to cool completely. Using a large serrated knife, cut in half horizontally. Place the bottom half, cut side up on a decorative cake plate. Spread the half of the macerated strawberries across the cake and top with the other cake half. Spread the whipped cream across the top piece and top with the remaining strawberries. Serve immediately.
Macerated Strawberries
In a bowl, combine all the ingredients and stir. Cover and let soak in the refrigerator for 2 hours. Serve with the Strawberry Shortcake.
Sweetened Whipped Cream
In a bowl, whip the cream until soft peaks start to form. Add the sugar and whip until stiff peaks start to form, being careful not to over whip. Refrigerate until ready to serve.
Recipe Summary
Main Ingredients: strawberries, cinnamon, macadamia nuts
Course: Dessert