Emeril's Toasted Garlic Green Beans
A Healthy Side Dish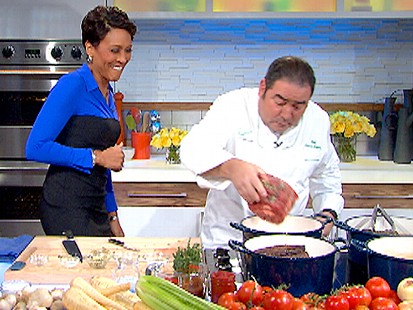 Chef prepares dish from his book, "Sizzling Skillets and Other One-Pot Wonders."
From the kitchen of Emeril Lagasse
|
Fresh herbs give these green beans amazing flavor. Olive oil and garlic add to the simple preparation of this delicious recipe.
Ingredients
11/2 pounds green beans or romano beans
1/4 cup extra-virgin olive oil
1/3 cup thinly sliced garlic
1 cup halved cherry or grape tomatoes
1 teaspoon minced fresh thyme leaves
1 teaspoon minced fresh rosemary leaves
1 teaspoon minced fresh oregano leaves
1 teaspoon kosher salt
1/2 teaspoon freshly ground black pepper
1/2 cup chicken stock or canned low-sodium chicken broth
Cooking Directions
Fill a medium bowl with ice and cold water, and set it aside.
Bring a large saucepan of lightly salted water to a boil. Add the beans and cook them until
crisp-tender, 2 to 4 minutes. Then immediately drain the beans and submerge them in the ice bath. When they are cool enough to handle, drain them well. Trim the ends and cut the beans into 2-inch
lengths on the diagonal. Set them aside.
Heat half of the olive oil in a large skillet over medium-high heat. Add the garlic and cook, stirring,
until lightly toasted, 1 to 2 minutes. Add the remaining oil and the tomatoes, thyme, rosemary, oregano,
salt, and pepper. Cook, stirring frequently, until the tomatoes have softened slightly, about 2 minutes.
Add the stock and the reserved beans, and cook, stirring, until the beans are heated through and well
coated with the garlic and tomatoes, 2 to 3 minutes.
Serve immediately.
Recipe courtesy Emeril Lagasse, adapted from Farm to Fork: Cooking Local, Cooking Fresh, HarperCollins Publisher, New York, 2010, copyright MSLO, Inc., all rights reserved
This recipe was styled by chef Karen Pickus for Good Morning America.
Other Recipes That You Might Like