Emeril's Turkey Burgers with Cilantro Mayonnaise
Eat Heathy With Emeril's Turkey Burger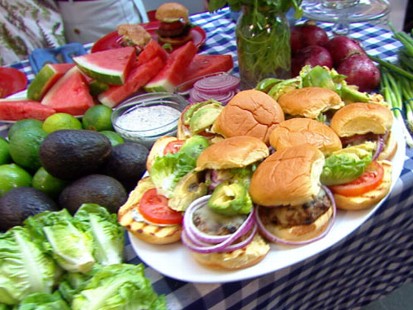 Chili-spiced sirloin burger wins top spot in 'GMA' viewer opinion poll.
From the kitchen of Emeril Lagasse
Can't figure out what to make for dinner? Look no futher, Emeril's turkey burger with cilantro mayonnaise is healthy and satisfying.
Ingredients
For the cilantro mayonnaise:
½ teaspoon minced garlic
1/4 cup chopped fresh cilantro leaves
2 tablespoon freshly squeezed lime juice, plus more to taste
1/4 teaspoon salt
1/4 teaspoon fresh cracked white pepper
For the turkey burger:
2 pounds ground turkey, preferably a blend of thigh and breast meat
1/2 cup minced red onion
1/4 cup minced green onion (about 1 scallion)
1 or 2 serrano peppers, minced, to taste
2 eggs, whisked
1 tablespoon olive oil
1 tablespoon Worcestershire sauce
1 tablespoon chili powder
1 teaspoon hot paprika
1 teaspoon ground coriander
1 teaspoon ground cumin
1 cup grated Monterey jack cheese
6 burger buns or potato rolls, warmed in oven
12 small lettuce leaves
12 slices tomato
1 cup thinly sliced red onions
1 avocado, thinly sliced
1 recipe Cilantro Mayonnaise, for serving
Cooking Directions
For the cilanto mayonnaise:
Place the mayonnaise, garlic, and cilantro in a food processor, cover, and puree until smooth. Add the lime juice, salt, and pepper, and pulse to combine. Add additional lime juice and/or salt to taste; refrigerate if not using immediately.
For the turkey burgers:
Preheat a grill to medium-high heat. In a large bowl, combine ground turkey with minced red onion, green onion, peppers, eggs, olive oil, Worcestershire sauce, chili powder, paprika, coriander, and cumin. Divide the turkey into 6 equal portions and, using your hands, shape into 6 burgers. Place the burgers on the grill and cook until turkey is just done and a thermometer inserted into the center registers 165 degrees F, about 3 minutes per side.
Serve the burgers on the buns with cheese, lettuce, tomato, thinly sliced red onions and avocado. Garnish with the Cilantro Mayonnaise.
This recipe was styled by chef Karen Pickus for "Good Morning America."
Recipe courtesy Emeril Lagasse, copyright MSLO, Inc., all rights reserved
Recipe Summary
Main Ingredients: ground turkey, red onion, green onion, worcestershire sauce, paprika, mayonnaise
Course: Dinner, Main Course, Party Platter
More Info: Kid Friendly