Emeril's Vegetarian Chili
This Vegetarian Alternative is Hearty and Filling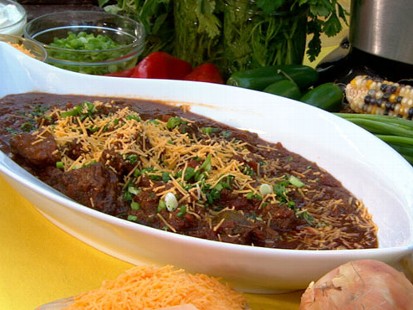 Famous chef prepares recipes from his new cookbook, "Sizzling Skillets."
From the kitchen of Emeril Lagasse
|
Looking for a vegetarian chili recipe that is as hearty and filling as the original? Look no further!
Ingredients
2 cups du Puy lentils
1 cup dried pink or pinto beans, soaked overnight
1 cup dried cream peas or small white beans, such as navy beans or crowder peas, picked over, rinsed, and soaked overnight
2 tablespoons chili powder
1 1/2 teaspoons ground cumin
1 1/4 teaspoons hot paprika
1 teaspoon cayenne
3/4 teaspoon dried Mexican or regular oregano, crumbled between your fingers
1/4 teaspoon ground cinnamon
1 head of garlic, minced
2 cups small- diced yellow onion
1 cup small- diced red bell pepper
1 cup small- diced yellow bell pepper
1 cup small- diced poblano chile
One 14.5- ounce can petite diced tomatoes, with juice
1/4 cup dry red wine
2 tablespoons tomato paste
1 tablespoon chipotle sauce*
8 cups vegetable stock or canned low- sodium vegetable broth
1 tablespoon kosher salt
1 teaspoon hot sauce, or to taste
1/4 teaspoon crushed red pepper
Grated cheddar cheese, for serving
Sour cream or yogurt, for serving
Sliced green onion, for serving
Chopped fresh cilantro leaves, for serving
Cooking Directions
Add the lentils, pink beans, cream peas, chili powder, cumin, paprika, cayenne, oregano, cinnamon, garlic, onion, bell peppers, poblano, tomatoes, wine, tomato paste, chipotle sauce, stock, and salt to the crock of a 6- quart slow cooker. Cover and cook on high for 3 hours.
Continue to cook for 2 hours longer, or until the beans are tender and almost creamy. Season the chili with the hot sauce and crushed red pepper before serving.
Serve the chili in bowls, garnished with grated cheddar, sour cream, green onion, and cilantro.
Note: Chipotle sauce is a hot sauce made from chipotle peppers, which have a warm, smoky flavor. This recipe was tested using La Morena Home Made Style Chipotle Sauce, which can be found in the international aisle of your grocery store, in Latin markets, or online. If you cannot find it in your area, substitute an equal amount of smashed and finely chopped canned chipotles in adobo.
This recipe was styled by chef Karen Pickus for Good Morning America.
Recipe courtesy Emeril Lagasse from Sizzling Skillets and Other One-Pot Wonders, HarperCollins Publishers, New York, NY, 2011, copyright MSLO, Inc, All Rights Reserved
Other Recipes That You Might Like