Jansen Chan's English Trifle Snow
Snow Day Dessert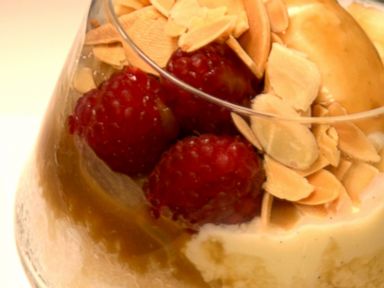 From the kitchen of Jansen Chan
Next time you're snowed in, put all that white stuff to use. This recipe for English Trifle Snow from Chef Jansen Chan, director of pastry arts at the International Culinary Center, turns freshly-fallen snow into a delicious dessert.
Ingredients
Custard Panna Cotta:
1 cup milk
1 cup cream
½ cup sugar
1 vanilla bean, split and scraped
3 yolks
2 gelatin sheets
Toffee Sauce:
4 oz. butter
1 ¼ + 2 T. Brown sugar, dark
1 c. cream
¼ t. salt
Additional Ingredients:
1 cup snow
Raspberries or strawberries
Sweetened whipped cream
Toasted sliced almonds
Rum, clear
Cooking Directions
Custard Panna Cotta: Bloom the gelatin sheets in ice water. Whisk the egg yolks with half the sugar. Heat the milk, heavy cream, and vanilla bean with the remaining sugar until hot. Temper the egg mixture with some of the hot mixture. Return the egg mixture to the pot and cook, stirring constantly, until thickened. Add the bloomed gelatin. Strain through a fine mesh strainer. Chill until set. Reserve in the refrigerator.
Toffee Sauce: Heat all ingredients slowly, and bring to a boil. Cool and reserved in the refrigerator.
Assembly: In each bowl or glass, fill with snow and splash with rum. On top, place scoops of panna cotta and whipped cream, toffee sauce, and berries. Top with more toffee sauce and sliced almonds.
Recipe courtesy Chef Jansen Chan, Director of Pastry Arts at the International Culinary Center.
Recipe Summary
Main Ingredients: snow, brown sugar, butter, milk, cream, vanilla bean, eggs, gelatin
Course: Dessert