Erin Chase's Carrot Cake Pancakes
Try Traditional Breakfast Food for Dinner!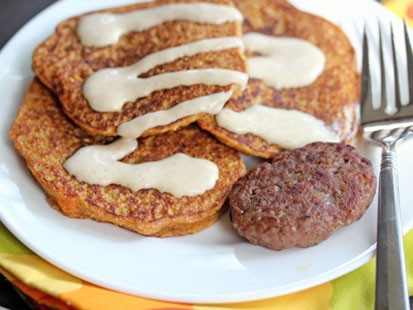 From the kitchen of Erin Chase
While most of us are eating pancakes for breakfast, Erin Chase recommends these easy and nutritious pancakes for dinner. These are something your kids will love!
Ingredients
2 cups whole wheat flour ($.56)
1 teaspoon cinnamon ($.05)
2 teaspoons baking powder ($.10)
1 teaspoon salt
1 1/2 – 1 3/4 cups milk (depending on how thick you like your pancakes) ($.20)
1 egg ($.10)
1/4 cup applesauce ($.20)
2 Tablespoons maple syrup ($.50)
2 Tablespoons butter, melted ($.20)
1 1/4 cup grated carrots ($.25)
Syrup: equal parts cream cheese and maple syrup with dash of cinnamon ($.50-$1)
Side: Sausage, eggs, fresh fruit ($2.50)
Cooking Directions
In a large mixing bowl, whisk together the flour, cinnamon, baking powder and salt.
Whisk in the milk, egg, applesauce, maple syrup, melted butter. Fold in the grated carrots.
Cook pancakes on hot, greased griddle. Repeat until all batter is used.
To make cream cheese syrup, whisk together equal parts of maple syrup and cream cheese and add a dash or two of cinnamon. Pour over hot pancakes.
Serve Whole Wheat Carrot Cake Pancakes & Cream Cheese Maple Syrup with side of sausage, scrambled eggs, fresh fruit.
For more great recipes from Erin Chase, check out her $5 Dinners site here.
Recipe Summary
Main Ingredients: maple syrup, grated carrots, cinnamon, whole wheat flour, applesauce, butter
Course: Dinner, Breakfast, Brunch
More Info: High Fiber