Erin Chase's Chicken Fajita Melts
Try This Delicious Weeknight Meal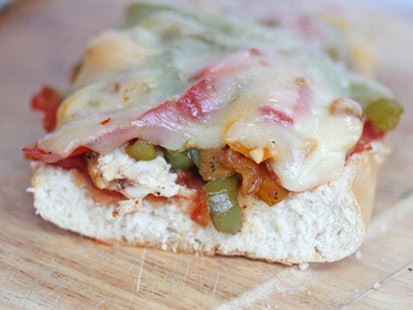 From the kitchen of Erin Chase
|
Ingredients
1 large loaf French bread
2 chicken breasts
1 teaspoon fajita seasoning
12 oz. bag frozen peppers and onion blend
1 teaspoon fajita or taco seasoning
About 1/4 cup salsa
4 slices Pepper Jack cheese
Fresh fruit…orange slices for us ($.50)
Cooking Directions
Slice the bread open lengthwise and then cut into fourths.
Season the chicken breasts with the fajita or taco seasoning and sauté or grill on both sides until cooked through, about 10 minutes. Let cool slightly, then slice into thin strips.
Sauté the frozen peppers and onions with some fajita seasoning for about 3-5 minutes, or until the water has cooked off.
To assemble, spread the salsa on each of the bottom slices of bread. Add the grilled chicken slices, then the sautéed peppers and onion, then top with the cheese slice.
Microwave or put under the broiler to melt the cheese.
Serve Chicken Fajita Melts with fresh fruit.
Recipe courtesy of Erin Chase.
Other Recipes That You Might Like