Erin Chase's Ham and Broccoli Breakfast Casserole
An Easy Holiday Breakfast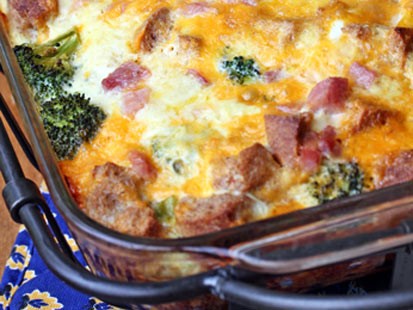 From the kitchen of Erin Chase
|
The perfect no-fuss make-ahead breakfast casserole for a holiday morning. Let this delicious breakfast casserole sit in the fridge overnight...and just pop it in and let it bake as you open presents and celebrate the holidays. This casserole has the perfect blend of flavors and textures, and will not disappoint your family and guests.The extra-sharp cheddar cheese gives this egg casserole a flavor boost you'll love.
For more great recipes from Erin Chase, take a look at her website, 5dollardinners.com.
Ingredients
4 whole wheat English muffins, cut into bite size pieces
2 cups broccoli florets
2 cups leftover ham, diced
8 oz. block extra sharp cheddar cheese, shredded, divided
12 eggs
1 cup milk
1 teaspoon paprika
1/4 teaspoon crushed red pepper
salt and pepper
Cooking Directions
Lightly grease a 9×13-inch glass baking dish with non-stick cooking spray.
In a mixing bowl, toss together the cut English muffin pieces with the broccoli florets, diced ham and about 3/4 cup of the shredded extra-sharp cheddar cheese. Once tossed, pour into the baking dish.
In the same mixing bowl, whisk together the eggs, milk, paprika and crushed red pepper. Add in a few dashes of salt and pepper as well.
Pour the egg mixture over top of the ingredients in the baking dish. Cover with foil and refrigerate overnight.
In the morning, sprinkle the remaining shredded extra-sharp cheddar cheese over top of the casserole. Bake, covered, at 375 for 45 minutes. Then remove the foil and bake for another 15 to 20 minutes, or until the casserole puffs up and slightly browns on top.
Serve warm to hungry women at church brunch, or to your own hungry brood!
Recipe courtesy Erin Chase.
Other Recipes That You Might Like