Erin Chase's Mocha Brownies
The Perfect Afternoon Treat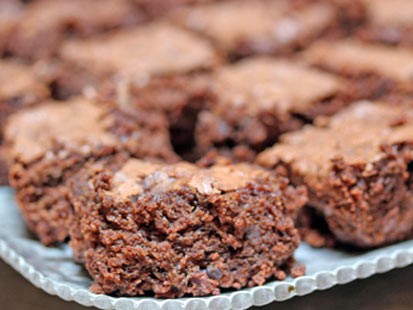 From the kitchen of Erin Chase
|
Ingredients
4 oz. dark chocolate, chopped
1 cup margarine or butter
2 cups chocolate chips, divided
4 eggs
1 3/4 cup sugar
2 tsp vanilla
1 cup flour
2 Tbsp cocoa powder
1 tsp baking powder
1/2 tsp salt
2 packets instant coffee granules
Cooking Directions
Preheat the oven to 350 and grease and flour a 9×13 inch glass baking dish.
Melt the chopped dark chocolate with the margarine or butter and 1 cup of the chocolate chips in a glass bowl in the microwave for 1 1/2 minutes. Stir together.
In a stand mixer or mixing bowl, beat together the eggs, sugar and vanilla. After the chocolate mixture has cooled slightly, beat it into the eggs mixture. Stir in the flour, cocoa powder, baking powder and salt.
Then gently fold in the instant coffee and the rest of the chocolate chips. Pour the batter into the prepared baking dish.
Bake in the preheated oven for 30 to 35 minutes, or until toothpick comes out clean in the center.
Let cool on a cooling rack for at least 30 minutes before cutting and serving.
Recipe courtesy Erin Chase.
Other Recipes That You Might Like