Erin Chase's Slow Cooker Mango Chicken
Try This Sweet and Delicious Dinner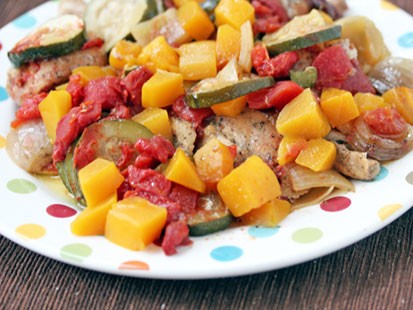 From the kitchen of Erin Chase
Slow cooking is the best way to feed your family with little prep work. This simple meal is colorful and yummy!
Ingredients
6 small boneless skinless chicken thighs (about 1 1/3 lb.)
olive oil, drizzles
red wine vinegar, drizzles
garlic powder, sprinkles
salt and pepper
1 small red onion, diced
1 medium zucchini, thinly sliced
1 15 oz. can diced tomatoes, drained (or 2 medium garden tomatoes)
1 mango, seeded and diced
salt and pepper to taste
Cooking Directions
Place the chicken thighs into the base of the slow cooker. Season with garlic powder, salt and pepper.
Place the diced red onion, drained diced tomatoes (or cut fresh tomatoes), zucchini slices and mango
pieces over top and around the chicken thighs.
Set slow cooker on low and cook for 8 to 10 hours. Dump and run!
Serve Slow Cooker Mango Chicken with toast, as is, or with other simple side dish.
For more great recipes from Erin Chase, check out her $5 Dinners site here.
Recipe Summary
Main Ingredients: tomato, mango, chicken
Course: Dinner
More Info: Kid Friendly