Dave Zinczenko's espresso oatmeal recipe
A wholesome and hearty breakfast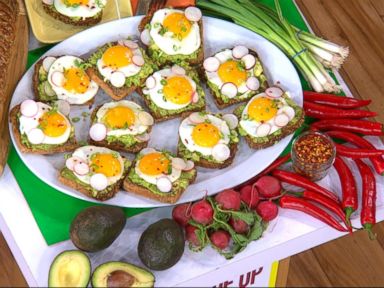 The author opens up about his new book, "Zero Belly Breakfasts," and shares his avocado toast recipe.
From the kitchen of Dave Zinczenko
ABC News Nutrition and Wellness Editor Dave Zinczenko is out with a new book, "Zero Belly Breakfasts," applying his wellness principles to the "most important meal of the day." Try his recipe for a smoothie with turmeric, a medicinal root that contains curcumin, which is said to naturally reduce inflammation.
Ingredients
1 cup oatmeal
1/2 cup unsweetened coconut milk
1/2 cup of your favorite coffee
1 teaspoon chia seeds
1 teaspoon cocoa powder
Cooking Directions
Combine all of the ingredients in a mason jar. Close the jar.
Refrigerate overnight for at least 5 hours.
It keeps for 4 days max.
Nutritional Information: 347 calories; 8.4 g fat (3.1 g saturated); 8 mg sodium; 58.4 g carbs; 10.1 g fiber; 0.8 g sugar; 11.7 g protein.
From the book Zero Belly Breakfasts by David Zinczenko. Copyright © 2017 by David Zinczenko. Reprinted by arrangement with Ballantine Books, an imprint of Random House, a division of Penguin Random House LLC. All rights reserved.d.
Recipe Summary
Main Ingredients: coconut light milk, coconut oil, frozen pineapple, banana, turmeric, hemp seeds
Course: Breakfast