Maria Menounos' 'Everygirl' Nachos
Fitness Food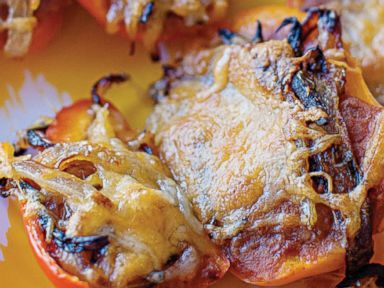 From the kitchen of Maria Menounos
|
TV personality Maria Menounos was once a size 14, tipping the scales at 160, until she completely revamped her approach to nutrition and exercise and dropped 40 pounds. Now she's sharing her secrets in a new book, "The Everygirl's Guide to Diet and Fitness," which includes tips and recipes like her 'Everygirl' Nachos below.
Ingredients
1 bag of 20 mixed sweet mini peppers (yellow, orange, red)
1 tablespoon olive oil
1 large onion, diced
1 jalapeno pepper, chopped to add taste
1 1-ounce bag of taco mix
1 16-ounce can of refried beans
1 pound of shredded mixed taco cheese
Cooking Directions
Preheat the broiler. Line a baking sheet with parchment paper.
Cut each pepper in half the long way. Remove seeds and stem and place pepper halves on the lined baking sheet and set aside.
Heat oil in a medium skillet. When hot, add onion and jalapeno pepper, saute until onion is golden brown, about 3 minutes. Set aside to cool.
Use a small bowl to mix the taco mix in with the refried beans. Using a spatula or a spoon, fill each pepper halfway with some of the refried beans.
Using your hands, sprinkle the onion and jalapeno mix on top of each filled pepper half.
Sprinkle the cheese evenly over the peppers. Place the baking sheet in the oven about 8 inches away from the broiler and broil until the cheese is melted and golden, 2 to 3 minutes.
Excerpted from THE EVERYGIRL'S GUIDE TO DIET AND FITNESS by Maria Menounos. Copyright 2014 by Maria Menounos. Excerpted by permission of Random House. All rights reserved. No part of this excerpt may be reproduced or reprinted without permission in writing from the publisher.
Other Recipes That You Might Like