Fabio Viviani's Asparagus
An Easy Way to Eat Vegetables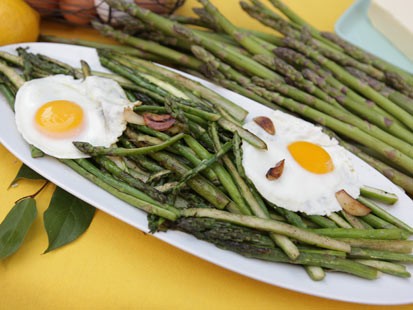 From the kitchen of Fabio Viviani
|
This recipe is a fantastic quick and easy side dish. Pan roasted, the asparagus taste heavenly topped with a fried egg.
Ingredients
16 Asparagus medium size
1 Stick of Butter
Salt & Fresh Ground Black Pepper
3 Cloves Garlic
3 Eggs
Cooking Directions
Melt butter in a sauce pan over medium/high fire, peel & press garlic clove with the blade of knife. Let garlic cook in butter at low fire. Add the asparagus, raw, peeled just from the half toward the end and sliced in half lengthwise. Keep fire low, sauté asparagus, checking for texture that you prefer but not less than 8-10 minutes. Remove and add fresh crushed black pepper. Top with fried egg.
This recipe was styled by chef Karen Pickus for Good Morning America.
Recipe courtesy Fabio Viviani.
Other Recipes That You Might Like