Fabio Viviani's Grape Tart
Simple Dessert Will Wow Guests, 'Top Chef' Star Says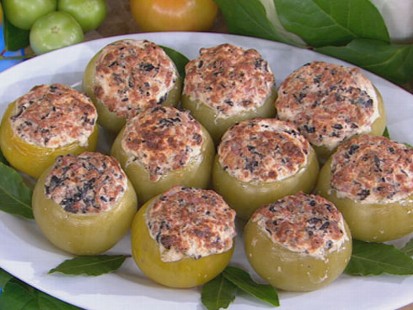 Author of "Fabio's Italian Kitchen" also prepares his baked stuffed tomatoes and grape tarts.
From the kitchen of Fabio Viviani
"I learned how to make this tart at the nameless deli where my grandpa and I took our grapes to have them pressed for wine. While we did the vendemmia -- stomping on the grapes -- the woman who worked there would make pie crust. When we were done, there were always a lot of partly crushed grapes left over, so she'd put them in pies and we'd take them home with our fifty gallons of juice for wine. This very simple, straightforward dessert will wow all your guests." -- Fabio Viviani
Ingredients
For the crust:
2¼ cups unbleached flour
2/3 cup superfine sugar
3 egg yolks
Peel of 1 lemon, grated
Pinch of salt
10 tbsp. (1¼ sticks) butter, cold and cut into pieces
For the filling:
2 egg whites
4 egg yolks
¼ cup flour
1 tbsp. Grand Marnier, or any orange liqueur
1 cup heavy cream
½ cup brown sugar
1 lb. seedless red grapes, stems removed
½ cup graham crackers, finely crushed
Cooking Directions
Preheat the oven to 375 degrees.
Butter and flour the bottom and sides of an 8-inch round spring-form pan.
To make the crust, place all the crust ingredients except the butter into a food processor. Pulse about 10 times, then add the butter and pulse till incorporated. Do this quickly or the crust will fall apart in the oven. Wrap the dough in plastic wrap and refrigerate for at least 1 hour.
To make the filling, whip the egg whites in a bowl until they form a medium peak (you should be able to turn the bowl upside down without the egg whites falling out) and put them aside. Place the rest of the filling ingredients except the grapes into a food processor and combine by pulsing. Remove and fold the whipped egg whites gently into the mixture.
Place the chilled dough between 2 sheets of plastic wrap and roll it out to about 1/4-inch thick, so it will fit into your buttered, floured pan. Place the dough in the pan so it covers the bottom and a little bit of the sides of the pan.
Crush the grapes a bit with your hands and put them onto the crust dough, then pour in the filling and spread it evenly. Bake in the middle rack of the oven for about 1 1/4 hours or until the top and the pastry are browned.
Remove the tart from the oven, dust the top with graham cracker crumbs, and allow it to rest for 15 minutes. Serve at room temperature.
Adapted from FABIO'S ITALIAN KITCHEN by Fabio Viviani. Copyright © 2013, VF Legacy, LLC. Published by Hyperion in April 2013. Available wherever books are sold. All Rights Reserved.
This recipe was styled by chef Karen Pickus for Good Morning America.
Recipe Summary
Main Ingredients: unbleached flour, sugar, eggs, butter, heavy cream, seedless red grapes, graham crackers
Course: Dessert