Fabio Viviani's Lemony Chicken with Cherry Tomatoes
Give Your Weeknight Dinner an Upgrade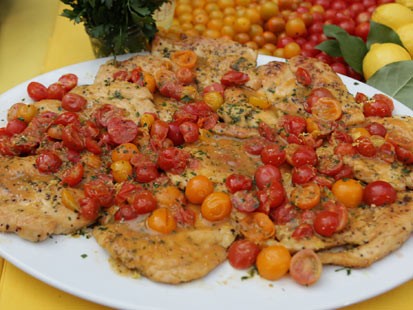 From the kitchen of Fabio Viviani
|
This chicken recipe from Fabio Viviani is a great quick dinner recipe.
Ingredients
1 pound chicken cutlets –pounded
4 Tbsp. extra light olive oil
2 c beef stock or chicken stock
2 c cherry tomatoes –halved
¼ c Italian Parsley –chopped
Salt and freshly cracked black pepper to taste
The zest from 1 lemon
The juice from 1 lemon
Cooking Directions
Season the chicken with a pinch of salt and pepper on each side the coat in the flour making sure to shake off any excess.
Heat up 2 Tbsp. of the olive oil in a large heavy bottom pan and sear the chicken cutlets for a couple minutes on
each side then transfer to a plate.
Work in batches not to overcrowd the pan and add some oil in between if necessary.
Deglaze the pan with the beef stock making sure to scrape all the brown bits from the bottom and allow the sauce to reduce for 10 minutes.
Return the chicken to the pot together with the tomatoes and allow everything to simmer together until the tomatoes release their juices and the sauce has reduced, about 20 minutes.
Remove from heat in stir in the lemon zest and lemon juice, adjust seasonings and serve sprinkled with the parsley.
This recipe was styled by chef Karen Pickus for Good Morning America.
Recipe courtesy Fabio Viviani.
Other Recipes That You Might Like