Fabio Viviani's Roasted Chicken
Try This Simple Roast Chicken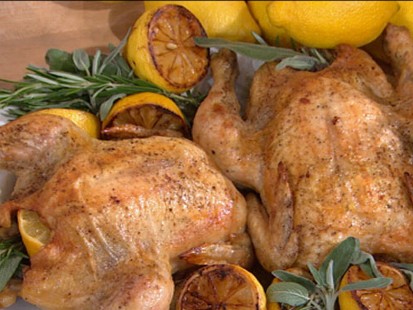 The host of Yahoo Screen's "Chow Ciao" makes some delicious dishes.
From the kitchen of Fabio Viviani
|
This simple chicken dish is easy to make and tastes fabulous. Make it for dinner tonight!
Ingredients
2lbs whole chicken
lemon
sage
rosemary
garlic
olive Oil
salt
pepper
Cooking Directions
Fill up a 2lbs whole chicken with lemon, sage, rosemary and garlic, rub it with 2 tablespoons of olive oil and season it with salt and pepper.
Cook it in the oven at 450 for about 10 minutes then lower till 325/350 till a thermomether in the dark meat read 155, let it rest for 10 more so the internal temperature raise till 165 degrees.
Served with burnt lemon and fresh herbs, perfect match with a glass of Italian red wine, great for date night, you prep it before she get home and you serve it cut it in 1/8 family style, flavor and no fuss.
Recipe courtesy Fabio Viviani. Click here to learn more about Fabio Viviani.
This recipe was styled by chef Karen Pickus for Good Morning America.
Other Recipes That You Might Like