Fabio's Cherry Tomato Salad with Orange, Cucumber and Feta
Arancie e Pomodori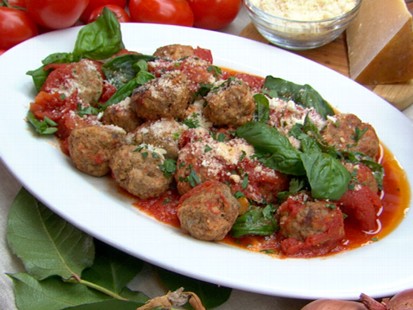 Fabio Viviani prepares his mom's meatballs, drunken spaghetti and tomato salad with orange and feta.
From the kitchen of Fabio Viviani
Serves 4 as a side or 2 as an entrée.
Ingredients
3 oranges, peeled and cut into segments with the membranes removed (Some people call these supremes, but since I'm Italian, I don't use that French word.)
20 cherry tomatoes, cut in half
1 cucumber, diced
1 cup feta cheese, crum¬bled
30 basil leaves
4 tbsp. extra-virgin olive oil
A pinch of salt
Cooking Directions
Place the orange segments, tomatoes, cucumber, and feta in a bowl and mix well. Add the basil, olive oil, and salt and mix well again. Serve.
From FABIO'S ITALIAN KITCHEN by Fabio Viviani. Copyright © 2013,
VF Legacy, LLC. Published by Hyperion in April 2013. Available wherever books are sold. All Rights Reserved.
This recipe was styled by chef Karen Pickus for Good Morning America.
Recipe Summary
Main Ingredients: cucumber, feta, basil, oranges
Course: Salad