Fabio's Drunken Spaghetti
Spaghetti Ubriachi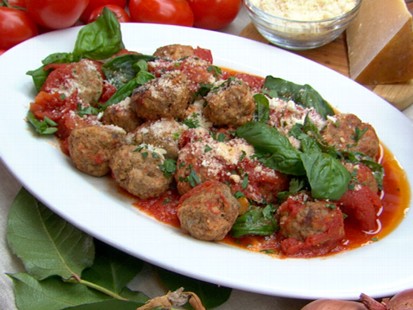 Fabio Viviani prepares his mom's meatballs, drunken spaghetti and tomato salad with orange and feta.
From the kitchen of Fabio Viviani
In Italy we feel bad throwing away even old wine, so we color our pasta water with it to get a little aroma of wine and a dramatic presentation. The flavor of the wine is in the water but you're not going to feel it, and you give leftover wine a last chance to be useful. The more wine you use, the redder the spaghetti will be—and this dish is all about the presentation, so you can use up to a whole bottle depending on how much you have around. You can also always buy an inexpensive bottle just for the recipe.
Ingredients
2 quarts water
1 bottle red wine (old or leftover is fine)
1 lb. dry spaghetti
½ lb. pancetta, diced
2 tbsp. butter
½ cup ricotta cheese
½ cup walnuts, chopped
Shaved Pecorino cheese to top
Cooking Directions
Bring the water and the wine to a boil in a large pot. Cook the pasta in it until the pasta is al dente (see tip on page 79). Drain, reserving a few tablespoons of the cooking liquid. In a sauté pan large enough to hold the pasta, cook the pancetta in the butter until its fat has been rendered.
Add the spaghetti and about 1 tablespoon of the reserved cooking liquid to the sauté pan. Once the liquid has reduced, remove the pasta from the heat. Add the ricotta and walnuts and mix with tongs. Top with the Pecorino and serve.
From FABIO'S ITALIAN KITCHEN by Fabio Viviani. Copyright © 2013,
VF Legacy, LLC. Published by Hyperion in April 2013. Available wherever books are sold. All Rights Reserved.
This recipe was styled by chef Karen Pickus for Good Morning America.
Recipe Summary
Main Ingredients: water, red wine, spaghetti, walnuts, ricotta
Course: Pasta