Guy Fieri's Fall Farro Citrus Salad
A Light Fall Salad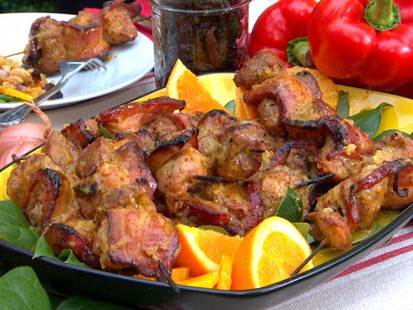 The famous chef grills up a delicious fall feast and discusses his new show, "Guy's Grocery Games."
From the kitchen of Guy Fieri
|
Celebrity chef Guy Fieri stopped by "Good Morning America" to share some of his favorite fall recipes. Try his seasonal fall farro citrus salad to celebrate autumn's arrival.
Ingredients
1 cup farro, lightly toasted
2 teaspoons salt, plus more for seasoning
2 1/2 cups water, or stock
2 oranges
2 tablespoons fresh orange juice, from about 1/4 orange
2 tablespoons minced shallot
2 teaspoons Dijon mustard
3 tablespoons white balsamic vinegar
1/3 cup extra-virgin olive oil
1 cup lightly packed baby arugula
½ cup diced red bell pepper
1/2 cup Marcona almonds
1/3 cup prunes, chopped
1/3 cup dried cherries, chopped
1/4 cup1/4-inch diced red onions
1/2 cup 1/4-inch diced tart apple or firm pear
Cooking Directions
In a large, heavy saucepan over medium-high heat, add the farro, 2 teaspoons salt, and water (or stock, if using). Bring to a simmer, cover and cook, stirring occasionally, until the farro is tender, 35 to 45 minutes. Check a few times while it is cooking--you want it to be al dente. Remove from the heat, drain any excess water, and set aside to cool.
While the grains are simmering make the dressing. Zest and juice one of the oranges. Whisk together the orange zest and juice, shallots, Parmesan, white balsamic vinegar, and olive oil. Add salt and pepper, to taste, and set aside.
Peel second orange and cut into wheels. To serve, toss the farro with 3 tablespoons dressing and transfer to a large serving bowl. In the same large bowl, combine the salad greens with the diced red bell peppers, orange wheels, almonds, prunes, cherries, and onions and gently toss with 3 tablespoons remaining dressing, adding more dressing as needed. Gently fold in arugula greens and plate.
Recipe courtesy Guy Fieri.
Other Recipes That You Might Like