Home
>
GMA
>
Recipes Home
>
From the Family Kitchen of Emeril Lagasse: Miss Hilda's Kale and Chorizo Soup
From the Family Kitchen of Emeril Lagasse: Miss Hilda's Kale and Chorizo Soup
Check Out Emeril's Family Recipe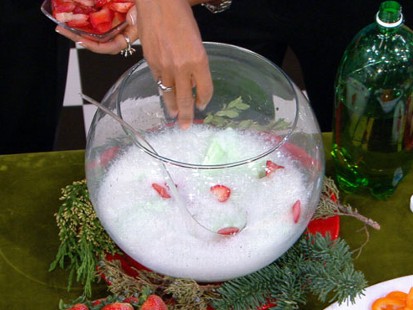 "GMA's" Robin Roberts whips up a family favorite.
From the kitchen of Emeril Lagasse
|
Warm up this holiday season with Emeril's delicious and healthy holiday soup. This dish features nutrient-rich kale and savory sausage, so you are sure to please even the pickiest eaters in your family.
Ingredients
2 tablespoons olive oil
1 1/2 pounds chorizo sausage, sliced in 1/2-inch slices
1 cup chopped onions
2 tablespoons minced garlic
2 large white potatoes, peeled and diced
3 quarts of chicken stock
4 cups kale, rinsed, stemmed, and cut into 1-inch strips
2 bay leaves
1/4 teaspoon dried thyme
Pinch of crushed red pepper
1/4 cup finely chopped parsley
6 tablespoons chiffonade of fresh mint
Small loaf of crusty bread
Cooking Directions
In a large stock pot, heat the olive oil. When the oil is hot, add the chorizo and onions. Saute the mixture for 2 minutes. Add the garlic and potatoes and cook for 2 minutes, stirring occasionally. Add the stock and kale and bring the liquid up to a boil. Stir in the bay leaves, thyme and crushed red pepper. Season with salt and pepper. Reduce the heat to a simmer and cook until the potatoes are fork tender, about 30 minutes. Remove from the heat and skim off any fat. Stir in the parsley. Ladle the soup into shallow bowls and garnish with the fresh mint. Serve the soup with crusty bread.
This recipe was styled by Karen Pickus for Good Morning America.
Recipe Summary
Main Ingredients: olive oil, chorizo, onions, garlic, potatoes, chicken, kale, bay leaves, thyme, red pepper, parsley, mint
Course: Party Platter, Appetizer/Starter, Soup, Main Course
Other Recipes That You Might Like