Fabio Viviani's fettuccini with salmon, dill, zucchini ribbons and Romano sauce
As seen on the 'GMA' Lunch Break live stream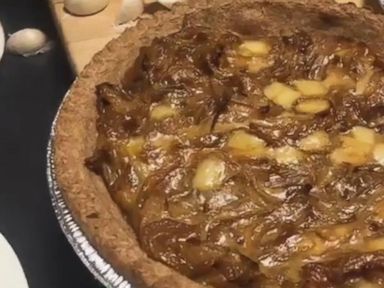 Viviani, the author of "30-Minute Italian," shares fettuccini and tart recipes with ABC News' Mara Schiavocampo.
From the kitchen of Fabio Viviani
"GMA" caught up with chef Fabio Viviani of "Top Chef" fame to learn how to make an authentic Italian lunch. Viviani shared his recipe for fettuccini with salmon, dill, zucchini ribbons and Romano sauce. Follow the recipe below to make it at home.
Watch more "GMA" food videos here.
Watch the "GMA" Lunch Break live stream on ABCNews.com/live and the GMA Facebook page every Monday at 12:30 p.m. ET.
Ingredients
2 shallots, sliced thin
1 small zucchini, shaved into ribbons
8 ounces cubed salmon, skin removed
1 pound fresh fettuccini
1 tablespoon chopped tarragon
2 tablespoons chopped dill
2 tablespoons chopped parsley
4 tablespoons extra virgin olive oil
8 tablespoons butter
1/3 cup grated Grana Padano cheese
Salt and Pepper
Olive Oil
Cooking Directions
Bring a large pot of salted water to a boil.
Heat a large pan on medium high and add a drizzle of olive oil. Add the shallots and cook for 4 minutes. Add the zucchini ribbons, season with salt and pepper, and cook for another minute.
Add the salmon to the pan and drop the pasta in the water at the same time. Cook the salmon for just 2-3 minutes, as not to overcook it. Add the tarragon, dill, parsley, extra virgin olive oil and butter. Once butter melts, add a touch of the pasta water to create an emulsified sauce.
Add the pasta to the sauce, fold in the Grana Padano, and toss. Adjust seasoning and add pasta water as needed to keep consistency.
Serves 3 to 4 people.
Recipe courtesy of "Fabio's 30-Minute Italian by Fabio Viviani"; published by St. Martin's Press. Copyright ©2017 by Fabio Viviani. All Rights Reserved. Used with Permission.
Recipe Summary
Main Ingredients: fettuccini, shallot, zucchini, salmon, grana padano cheese, olive oil, butter
Course: Pasta, Dinner