Home
>
GMA
>
'GMA' Lunch Break: Seamore's Fish Taco With Striped Bass, Black Bean Puree, Pico de Galo Recipe
'GMA' Lunch Break: Seamore's Fish Taco With Striped Bass, Black Bean Puree, Pico de Galo Recipe
As Seen on the 'GMA' Lunch Break Live Stream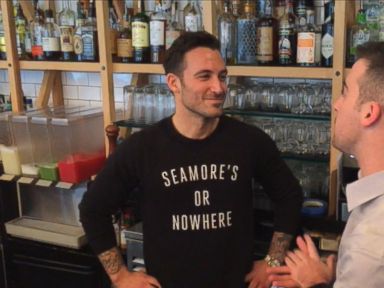 "GMA" Lunch Break with Chef Michael Chernow of Seamore's.
From the kitchen of Seamore's
"GMA" visited Seamore's, a restaurant in New York City, and met up with their owner Michael Chernow,to try their seasonal fish taco dish.
Watch the "GMA" Lunch Break live stream on ABCNews.com/live and the GMA Facebook page daily at 12:30 p.m. ET.
Makes 2 servings (4 tacos)
Ingredients
4 corn tortillas
8 oz striped bass (4-2 oz. slices)
2 tablespoon canola oil
1 tablespoon kosher salt
For the pico de galo:
1 beef steak tomato
.5 large red onion diced
1 jalepeno (seeds removed, fine diced)
.5 bunch cilantro washed and chopped
2 cloves garlic (fine diced)
1 tsp. cumin
3 tsp. fresh lime juice
1 tablesoon kosher salt
For the black bean puree:
1 small can black beans drained
½ cup lemon juice
½ cup olive oil
1 tsp black pepper
For the fillings/toppings:
1 heads baby gem lettuce (shredded)
.5 cup creme fraiche
2 breakfast radish (shaved)
4 individual avocado slices
Cooking Directions
For the pico de galo:
Dice/chop tomatoes, onion, garlic, cilantro.
Mix in seasoning, oil and seasoning.
For the black bean puree:
Place black beans in small pot, and slightly heat.
Place in blender and blend with remaining ingredients.
For the tacos:
Heat oil in pan, season and sear pre-portioned fish. Sear and cook.
In a pan, heat up corn tortillas.
Build tacos in these steps:
1. Tortillas
2. Black bean puree
3. Shredded lettuce
4. Avocado Slice
5. Fish
6. Dress with pico, creme fraiche and radish
7. Serve with lime wedge
Recipes courtesy of Chris Cryer. Reprinted with permission for "Good Morning America."
Recipe Summary
Main Ingredients: corn tortillas, striped bass, canola oil, tomatoes, onion, black beans, avocado, creme fresh, radishes, garlic, cilantro
Course: Dinner, Lunch