Zero Belly Cookbook's Flourless Chocolate Cake
Try this yummy recipe to keep you on track with your weight-loss resolution this year.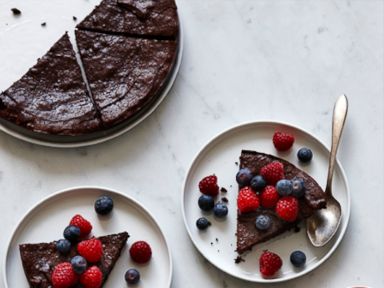 From the kitchen of Dave Zinczenko
Ingredients
Olive oil spray
6 oz semisweet chocolate (chips or bar)
¼ cup maple syrup
½ cup granulated sugar
3 large eggs
½ cup unsweetened cocoa powder (non-alkalized)
1 tsp vanilla extract
¼ tsp kosher salt
Fresh berries for garnish
Cooking Directions
Preheat oven to 350°F
Lightly spray a 7-inch tart pan with a removable bottom, or a 7- or 8-inch springform pan with olive oil spray. Line the bottom of the pan with parchment paper and spray the paper.
Melt the chocolate in a small saucepan over low heat together with the maple syrup. Once melted, add the sugar and stir until dissolved, about 2 minutes.
Take the saucepan off the heat and whisk in the eggs one at a time.
Sift the cocoa powder with a sieve and whisk into the egg and chocolate mixture. Make sure there are no lumps. Add the vanilla and the salt and mix well.
Pour the batter into the prepared pan and bake for 25 minutes of until firm to the touch.
Transfer the cake pan to a cooling rack to rest for at least 5 minutes before slicing.
Cut the cake into 8 slices, garnish with fresh berries, and serve warm or at room temperature.
Per serving: 220 calories / 9 g fat / 37 g carb / 2 g fiber / 5 g protein
Recipe Summary
Main Ingredients: olive oil, semisweet chocolate, maple syrup, granulated sugar, eggs, cocoa powder, vanilla extract, kosher salt
Course: Dessert