Home
>
GMA
>
Schnitzel & Things' Pork Belly Schnitzel Egg & Cheese Sandwich on Ciabatta Bread With Roasted Tomato Ketchup
Schnitzel & Things' Pork Belly Schnitzel Egg & Cheese Sandwich on Ciabatta Bread With Roasted Tomato Ketchup
Twist on the Classic Bacon, Egg and Cheese Sandwich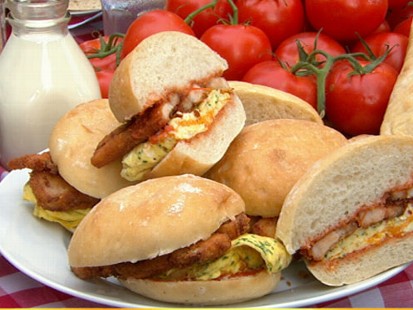 "Great Food Truck Race" host Tyler Florence puts two NYC food trucks in battle.
From the kitchen of Schnitzel & Things' Oleg and Hannah Voss
Food Network's "The Great Food Truck Race," the hit culinary TV competition which pits food truckers against one another to see which team can make the best food and most money, is back for a third season. "GMA" pitted two of New York City's favorite food trucks in a live battle in Times Square to see who makes the best breakfast sandwich.
Oleg and Hannah Voss, the husband and wife team behind the truck "Schnitzel & Things," made this twist on the classic bacon, egg and cheese sandwich.
Ingredients
Ciabatta roll
Eggs
Milk
Cheddar Cheese
Chives
Pork Belly
Flour
Panko Breadcrumbs
Plum Tomatoes
Ketchup
Cooking Directions
For the Pork Belly Schnitzel:
Roast the pork belly in the oven at 350 degrees for about 3 1/2 to 4 hours. Let the pork belly cool and refrigerate until cold. Slice the pork belly into 1/2 inch slices. Dip each slice in flour, egg wash, and then in the panko breadcrumbs. Once breaded, set aside until it's ready to be fried.
For the roasted tomato ketchup:
Slice tomatoes lengthwise, drizzle with olive oil, salt and pepper and set on baking sheet in the oven at 315 degrees for 25 minutes. Blend the roasted tomatoes with the ketchup and season to taste.
For the sandwich:
To assemble the sandwich, fry the sliced pork belly schnitzel with a generous amount of canola oil. Once golden brown, set on paper towel to cool.
In a small bowl, scramble two eggs with 1 tbs of milk and add the chopped chives. In separate frying pan, fry the eggs and add the cheddar on top to melt. Slice the ciabatta roll and spread the roasted tomato ketchup.
Once the eggs are done, transfer onto the bottom slice of roll.
Place three slices of the pork belly schnitzel on top of the egg and cheese. Cut in half and enjoy!
Recipe Summary
Main Ingredients: ciabatta roll, eggs, milk, cheddar cheese, pork belly, tomatoes
Course: Brunch, Breakfast, Lunch