Guy Fieri's Foolproof Turkey Breast Brine
Tip For A Juicy Bird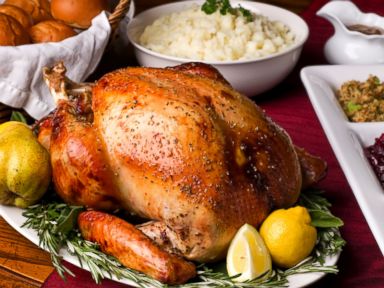 From the kitchen of Guy Fieri
We rounded up the No. 1 essential holiday tip from big-name celebrity chefs, restaurant owners and food TV personalities. Guy Fieri's is to brine your bird, with his recipe below.
Ingredients
6 quarts water
8 cups ice cubes
1 cup kosher salt
1/3 cup brown sugar
1/2 cup molasses
7 fresh sage leaves
1 tablespoons black peppercorns
Cooking Directions
In a large stock pot, combine 3 quarts water, 1 cup kosher salt, brown sugar, molasses, sage leaves and peppercorns. Heat until salt dissolves, remove from heat. Add in 3 quarts cool water and 8 cups ice.
Submerge turkey in brine – either use a brining bag or place the turkey in the brine in a deep container and place a plate or weight on top to keep it submerged. Brine overnight in the fridge.
Yield: brine for 1 turkey breast (10 pounds)
Recipe courtesy Guy Fieri.
Recipe Summary
Main Ingredients: water, ice, salt, brown sugar, molasses, sage, peppercorns
Course: Main Course