French Macaroons
Try This Famous French Treat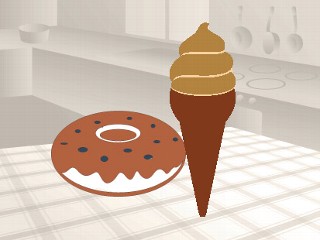 From the kitchen of Lauren Torrisi
While a little tricky, these popular treats are taking the US by storm. The ingredients are measured in grams, the way that most recipes are formatted in Europe. If you want to translate to American cups and meaures, there are many sites available that will transfer for you.
Ingredients
181g egg white
244g almond flour
244g confectioner's sugar
244g sugar
60g water
Cooking Directions
Combine sugar and water together in a small pot.
Place half egg white (122g) in mixing bowl.
Grind almond flour and 10X in food processor until fine. Sift.
Heat sugar and water to 235 degrees F. Use a candy thermometer.
As sugar/water reaches 220 degrees, whisk whites with 1 Tablespoon sugar. Increase speed and whisk to medium peak.
Pour hot sugar down the side of the bowl and beat until bowl is warm. Pour remaining egg whites (122g) into almond flour.
Add meringue to the almond flour/egg white mixture. Add flavoring and coloring at this time.
Drop a spoonful of batter into the bowl, it should take 30 seconds to disappear into the rest of the batter.
Pipe the batter onto parchment paper. Let sit on flat half sheet trays for at least a half hour, until skin forms.
Bake at 325 degrees for about 5minutes. The bases should have feet and be cooked on top, although the feet may be sticky.
Let cool and then peel off of parchment.
Fill with your favorite buttercream filling.
Recipe courtesy Lauren Torrisi.
Recipe Summary
Main Ingredients: almond flour, egg whites, confectioners sugar
Course: Dessert
More Info: Wheat/Gluten Free