Fresh Pasta Dough
Try Your Hand at This Classic Dough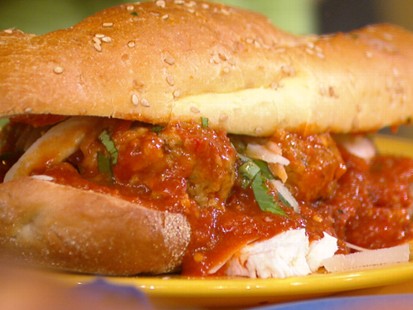 The world-famous chef puts a gourmet twist on typical game-day grub.
From the kitchen of Mario Batali
|
Ever thought about making pasta? Let Mario Batali help with his approachable recipe.
Ingredients
3 ½ cups all-purpose flour, plus extra for kneading
5 large eggs
Cooking Directions
Mound the flour in the center of a large wooden board. Make a well in the center of the flour and add the eggs. Using a fork, beat the eggs together and then begin to incorporate the flour, starting with the inner rim of the well. As you expand the well, keep pushing the flour up to retain the well shape (do not worry if it looks messy). When half of the flour is incorporated, the dough will begin to come together. Start kneading the dough, using primarily the palms of your hands. Once the dough is cohesive mass, set the dough aside and scrape up and discard any dried bits of dough.
Lightly flour the board with additional flour as necessary. The dough should be elastic and a little sticky. Wrap the dough in plastic wrap and allow to rest for 30 minutes at room temperature before using.
Red Pasta Dough
Add 2 tablespoons tomato paste along the eggs
Black pasta dough
Add 2 packets (2 tablespoons) squid ink along with the eggs.
Green pasta dough
Bring 3 quarts of water to a boil in a large pot, and add 1 tablespoon salt. Set up an ice bath next to the stove. Blanch 1 cup packed spinach leaves in the boiling water for 45 seconds, then remove with tongs or a slotted spoon and immediately plunge into the ice bath to cool for 2 minutes. Drain the spinach and squeeze dry in a kitchen towel, removing as much moisture as possible. Chop the spinach very fine and combine with the eggs in a small bowl. Stir well until as smooth as possible, then add to the well in the flour and proceed as directed.
This recipe was styled by chef Karen Pickus for Good Morning America.
Other Recipes That You Might Like